Event Detail Page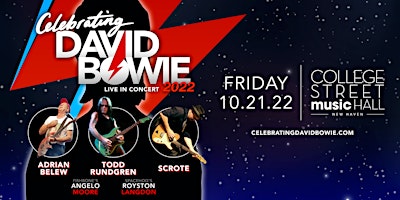 Premier Concerts and Manic Presents:
Feat. Todd Rundgren, Adrian Belew, Scrote, Angelo Moore, Royston Langdon, and more...
Doors: 7:00 pm | Show: 8:00 pm
All Ages
College Street Music Hall
New Haven, CT
This event is fully reserved seated on the Floor, and Balcony
Masks are strongly encouraged.
By purchasing tickets to this event, you agree to abide by the State of CT, City of New Haven, Artist, and College Street Music Hall's Health and Safety measures in effect at the time of the event. Check back for updates to your event on our website as guidelines and entry requirements are subject to change.
CELEBRATING DAVID BOWIE
Celebrating David Bowie (CdB) is an expansion of the Interpreting Music Series that was conceived, created, and produced by Angelo "Scrote" Bundini in Los Angeles from 2012-2015. Scrote organized many top recording & session players to interpret a back catalogue of an innovative artist – Miles Davis, Annie Lennox, Fela Kuti, Burt Bacharach and Talking Heads, among many others. The collective included Scrote, Ron Dziubla, Joe Sumner, Gaby Moreno, Gary Oldman, Angelo Moore (Fishbone), former Bowie band members Tim Lefebvre and Holly Palmer, and countless other artists & musicians from around the world. The shows intentionally ran long, without interruption, to create an unrelenting tornado of music with little dialogue.
When David passed, many suggested Scrote create one of these special concerts for him. Celebrating David Bowie was born to meet that intent. This show at the Roxy in Los Angeles sold out quickly (Feb 9, 2016). Seal, Oldman, Moore, Nikka Costa, Ewan McGregor, many of the Interpreting Music collective, as well as special guests performed an emotional 4 hour show. It was meant to be a one time only event. With the help of the Florence Belsky Foundation, 100% of the proceeds went to Max's Kansas City Kid's Project. Much to their surprise, news of the show went viral worldwide.
Scrote & Oldman decided to accept an invitation to perform an encore in San Francisco at the Regency Ballroom on March 22, 2016. Again, 70 performers including many from the Roxy show, Oldman, Jerry Harrison (Talking Heads), and all-stars from the Bay Area delivered a heartfelt tour de force 4-hour show. 100% of proceeds from this show went to TJ Martell Foundation who fund innovative cures for leukemia, cancer, and AIDS. Similar fan and press response followed. More and more show inquiries pour in from all directions.
In response, Scrote put together a 2017 international tour around David's birthday in cities most known to influence David – London, NYC, LA, Sydney, and Tokyo. The first show in London sold out in 2 hours (5000 capacity). A cold call to the Sydney Opera House led to two epic sold out nights in the round. More charities were called to take part including Children & The Arts (UK). Again, 70 performers for a 4-hour show. Many of the initial performers were joined by incredible guests along the way such as Sting, Simon Le Bon (Duran Duran), Living Colour, Gavin Rossdale (Bush), Corey Taylor (Slipknot), Kate Pierson (B-52's), Perry Farrell (Jane's Addiction), Ian Asturby (The Cult), and former Bowie band members from throughout David's career – Adrian Belew, Gerry Leonard, Gail Ann Dorsey, Earl Slick, Mike Garson, Sterling Campbell, Zachary Alford, Catherine Russell, Holly Palmer, Emm Gryner, Mark Plati, Carmine Rojas and Tim Lefebvre. Mike Garson was selected to emcee. Fans and press were ecstatic about the results. These shows benefitted arts education specifically for kids at David Bowie's hometown school in Brixton.
2018 saw Celebrating David Bowie play Europe, the US, Canada, Mexico, Iceland with the addition of Todd Rundgren and full orchestra, and South America… 17 countries on 5 continents in less than three years.
Celebrating David Bowie will return to the road with a brand new show and guests in 2022.
Links: Official Website | Facebook | Instagram | Twitter | YouTube