Event Detail Page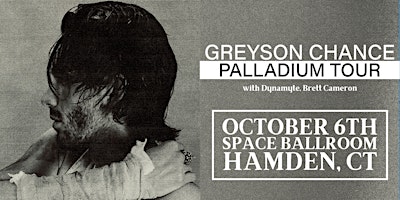 Premier Concerts and Manic Presents:
with Dynamyte, Brett Cameron
Doors: 7:00 pm | Show: 8:00 pm
All Ages
General Admission Standing Room Only
Due to scheduling conflicts, Greyson Chance has decided to postpone his tour to the fall of 2022.
His performance at Space Ballroom will be on Thursday, October 6, 2022
If you cannot attend this newly rescheduled date, you may request a refund any time before January 17, 2021 at 12PM EST.
COVID-19 Policy
Masks are strongly encouraged.
By purchasing tickets to this event, you agree to abide by the State of CT, City of Hamden, Artist, and Space Ballroom's Health and Safety measures in effect at the time of the event. Check back for updates to your event on our website as guidelines and entry requirements are subject to change.
GREYSON CHANCE
At his core, Greyson Chance is a performer. As a touring artist for over 11 years, Chance's ability to capture his audience, and to bring them into his artistic world is apparent. His live show is dynamic, catapulting into energetic highs, and cascading down to more tender moments when he sits at the piano. His latest EP Trophies equally shows the artist's range, and how he is much more than just a pop singer. Chance's show retains a moment for every individual, regardless of their identity or creed. It is a must see, no matter the night, and no matter the venue.
Links: Official Website | Facebook | Twitter | Instagram | Spotify
DYNAMYTE
Artfully fusing classic R&B, sassy/sultry neo-soul and infectious pop, fast emerging indie powerhouse Dynamyte's legal surname is a too awesome for words but also super long and hard to pronounce mash of Greek letters (Marisa Kouroubacalis). Luckily, the Boston bred, recent L.A. transplant didn't have to reach far for her explosive artist moniker. From her childhood days as a badass second-degree black belt in Tae Kwon Do, a gymnast, and a vocalist and drum prodigy with Michael & Marisa – the high profile, constantly touring duo she had with her brother – she's always been an unbridled swirl of energy. Not surprisingly, she got the nickname "Dynamyte" the first time she ever set foot in a studio to record.
Launching a new chapter as a solo artist this past year, the multi-talented singer/songwriter has lived up to her name with an array of successful singles and fresh, fun homespun video clips throughout 2020. Her debut "Show Me You" has over 450,000 YouTube views and more than 700,000 Spotify streams. Dynamyte followed that with "Flattery", "Something's Off", "Headspace," "I Don't Like You," "Pride," and "Only Want You." Her combination of soulful Amy Winehouse-influenced vocals and pointed, fearlessly honest Lily Allen-esque songwriting style is creating an edgy, seductive niche all its own. Ironically, even though she wrote the slyly seductive "Show Me You" as an incisive takedown of the way the social media and influencer culture can inspire young people to live a lie as their online personas, her fan base on Instagram (over 43,000 followers) and TikTok (118,000 followers, 1.7M likes) has expanded exponentially this year.
Perhaps the most amazing part of Dynamyte's growing impact is that she could never have imagined it happening so quickly after she moved to Los Angeles, after graduating from Brown University with a degree in Sociology. Living out west apart from friends and family for the first time gave Dynamyte time to post videos of her singing cover songs on Instagram, which got a lot of traction. Those paved the way for her big breakthrough on TikTok – not with a song at first, but with what she calls a "silly little how-to-sing video" that took her quickly from 12 followers to getting over a million views and her subsequent following of over 118k.
"It was a perfect storm of those Instagram videos and the so-called instructional video," she says, "a truly weird miracle that happened just as I was about to drop 'Show Me You.'"
While it's the intimacy and cool edginess of Dynamyte's voice that invites us to the party, it's her melodies and compelling lyrical narratives that keep fans hanging on for the next witty, insightful phrase.
Only a year apart, Dynamyte and her brother Michael began making music and recording videos of each other when they were toddlers and spent most of their formative years (2005-16) as the multi-talented duo Michael & Marisa, performing hundreds of shows around the country as the opening act for everyone from David Archuleta, Cody Simpson, Greyson Chance, Drake Bell, Mitchell Musso, and UK band Rixton (now Push Baby) to superstars Ariana Grande and Christina Perri. They started out playing classic rock covers before tapping into their songwriting skills at eight and nine. Originally, Dynamyte played drums and Michael played guitar, but they quickly added bass, keyboards and ukulele to their maturing sound. Her brother is also a popular indie recording artist, scoring several hit streaming singles with a hybrid sound that juxtaposes electronica, hip-hop, future bass, and hyperpop production.
Dynamyte developed her Amy Winehouse-tinged vibe at age 13 after working with a producer who caught a certain natural raspy tone when she sang certain notes. She had always had a low rasp in her speaking voice and had long since mastered singing Janis Joplin songs in the late legend's inimitable style. She started listening to Winehouse's music more and soon Dynamyte was obsessed with the late singer and her catalog. Everything clicked when Dynamyte realized that Winehouse's tone, range, rawness and authenticity were right in her own wheelhouse.
"Michael and I were always harmonizing with the Beatles records in our house since we were in diapers. With that as my background, people always ask why I went to study Sociology with a focus on Social Psychology at Brown. I just love to analyze human beings and their behavior. Those are the inspirations behind my lyrics and truly make me a better songwriter," she adds. "I use my analyses to make sense of my experiences when I'm writing. I always want to write songs that will impact people."
Links: Official Website | Twitter | Instagram | Spotify
BRETT CAMERON
Brett Cameron - a Brooklyn-based alt•pop artist - has attained well over one million streams & tens of thousands of fans through self-recording, producing, & managing his career - all from his bedroom. Cameron's sophomore album, "Add Colour," earned him a semi-finalist position in the International Songwriting Competition (Coldplay & Dua Lipa are judges) & has mastering credits from John Greenham (Grammy winning mastering engineer for Billie Eilish, Sam Smith, FINNEAS, & Ashe).
Having been featured on EARMILK, HuffPost, wave of good noise, iHeart Radio, Popdust, & 2DOPEBOYZ/Complex Music, Cameron took this online buzz into the live arena, opening shows & festivals for some of the biggest artists in the world, including Kodaline, Jon Bellion, The Black Keys, Teddy Geiger, Jamie N Commons, Daryl Hall & John Oates, The Rocket Summer, Lydia, & NeverShoutNever.
Links: Official Website | Facebook | Twitter | Instagram | Spotify