St. Paul & The Broken Bones: The Angels In Science Fiction Tour – Tickets – College Street Music Hall – New Haven, CT – February 23rd, 2024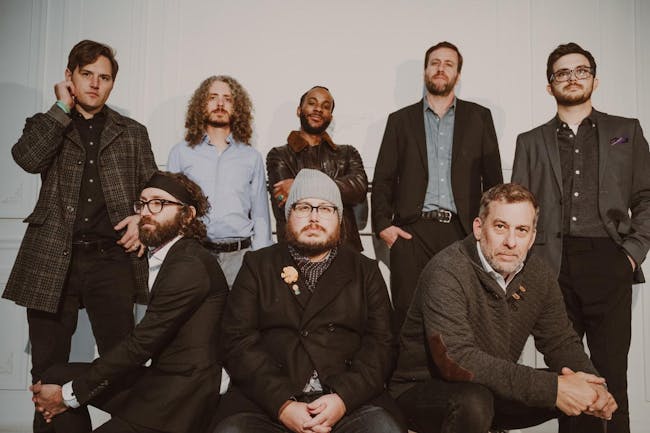 St. Paul & The Broken Bones
Sugadaisy
College Street Music Hall
New Haven
,
CT
with Sugadaisy
This event is fully reserved seated on the Floor, and the Balcony.
ST. PAUL AND THE BROKEN BONES
Founded in Birmingham, Alabama in 2011, St. Paul & the Broken Bones consists of Paul Janeway (vocals), Jesse Phillips (bass), Browan Lollar (guitar), Kevin Leon (drums), Al Gamble (keyboards), Allen Branstetter (trumpet), Chad Fisher (trombone), and Amari Ansari (saxophone). The eight-piece ensemble burst into the world with their 2014 debut Half the City, establishing a sound that quickly became a calling card and landing the band a slew of major festivals including Lollapalooza, Coachella and Glastonbury. Critical praise from The New York Times, Rolling Stone, SPIN and NPR followed, leading to shared stages with some of the world's biggest artists—Elton John and The Rolling Stones among them—and launching an impressive run of headlining tours behind what Esquire touted as a "potent live show that knocks audiences on their ass."
The group has continued to expand their sound with every record, branching out well beyond old-school soul into sleek summertime funk and classic disco on albums like 2018's Young Sick Camellia. Their forthcoming LP, Angels In Science Fiction, stretches their limbs further afield, building on the shadowy psychedelia and intricate, experimental R&B of 2022's The Alien Coast.
Links: Official Website | Facebook | Instagram | Twitter | Spotify
SUGADAISY
Zach Littleton and Johny Levon have been aware of each other's existence since third grade in Bowling Green, Ky. — after all, Littleton "dated" Levon's sister in that era "mostly because we were both big redheads and everyone said we should," he recalls. It took many years for them to start making music together, and even longer for them to realize they worked best as a duo, but since 2016, Sugadaisy has quietly built a substantial fanbase by simply being its weird, wonderful selves.

Indeed, Sugadaisy is no ordinary band, largely because Littleton and Levon are no ordinary musicians. One of their songs ("Space Cadet") has nearly two million listens on Spotify simply thanks to word of mouth and some love from high-trafficking YouTube creators. They've performed live in shirts and ties and with their heads covered in pantyhose. With tongue more often than not firmly in cheek, they've largely released tunes rooted in guitar-based folk and singer/songwriter fare, but they also have punk, hip-hop, Spanish, and math rock songs itching to emerge.

Links: Official Website | Facebook | Instagram | Twitter | Spotify

Venue Information:
College Street Music Hall
238 College Street

New Haven, CT, 06510