Elm City Brew Festival – Tickets – College Street Music Hall – New Haven, CT – November 23rd, 2019
Elm City Brew Festival
Seth Adam, Eddie Seville
College Street Music Hall
New Haven
,
CT
$22.32 - $64.77
Sales Ended
50+ breweries. 200+ beers.
The event runs from 1-5PM, with a special VIP hour beginning at Noon. VIP $60, advance only. General Admission at 1pm, $45 in advance, $50 day of. Proceeds from the event will benefit the New Haven Center for Performing Arts, Inc.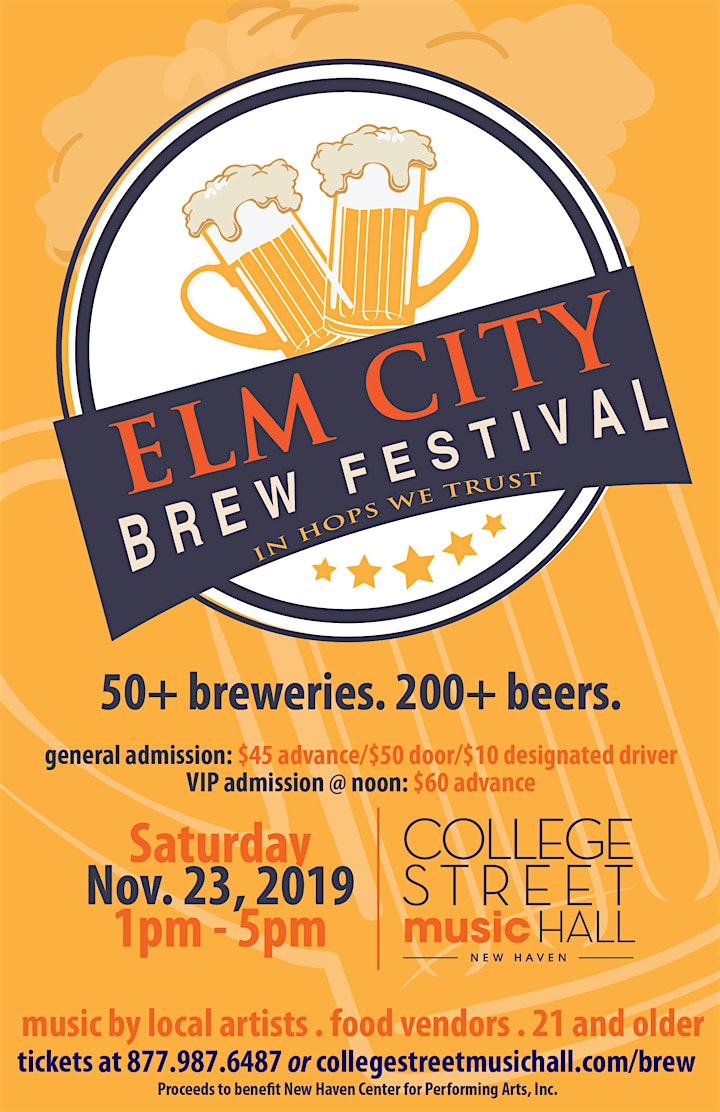 America boasts more than 6000 craft breweries today, including more than 60 right here in Connecticut, producing renowned ales, lagers, porters and stouts… in fact, every style of beer known to the world. College Street Music Hall presents the 5th annual Elm City Brew Festival, bringing together nearly 65 of these talented artisans on November 23rd to showcase their talents. Craft beer aficionados will be able to sample many of the nearly 225 brews showcased, while discussing beer with the brewers and reps. Popular, casual food offerings will be available.
FEATURING THESE POPULAR CONNECTICUT BREWERIES,
WITH MORE TO COME…
Alvarium Beer Company / New Britain, CT
East Rock Brewing Company / New Haven, CT
New England Brewing Company / New Haven, CT
OEC Brewing / Oxford, CT
Firefly Hollow Brewing Co. / Bristol, CT
Black Hog Brewing / Oxford, CT
Counter Weight Brewing Company / Hamden, CT
Rhythm Brewing Co. / New Haven, CT
CT Valley Brewing / South Windsor, CT
Beer'd Brewing Company / Stonington, CT
No Worries Brewing Company / Hamden, CT
Two Road Brewing Company / Stratford, CT
Little House Brewing Co. / Chester CT
BAR / New Haven, CT
City Steam Brewery / Hartford, CT
Pottertown Brewing Company / New Haven, CT
Hull's Brewing Company / New Haven, CT
Athletic Brewing Company / Stratford, CT
Hoax Brewing Company / East Haven, CT
Front Porch Brewing / Wallingford, CT
Armada Brewing / East Haven, CT
Kinsmen Brewing Co. / Southington, CT
Still Hill Brewery / Rocky Hill, CT
Thimble Island Brewing Company / Branford, CT
Woodbury Brewing Company / Woodbury, CT
Half Full Brewery / Stamford, CT
Back East Brewing Company / Bloomfield, CT
Stony Creek Brewery / Branford, CT
Charter Oak Brewing Co. / Danbury, CT
New Haven Nighthawk Brewing / New Haven, CT
Other Desi Beer Company / Wallingford, CT
Bad Sons Beer Company / Derby, CT
AND THESE GREAT OUT-OF-STATERS,
WITH MORE TO COME…
Lawson's Finest Liquids / Waitsfield, VT
Long trail Brewing Company / Bridgewater Corners, VT.
Switchback Brewing Company / Burlington, VT
Stowe Cider / Stowe VT
Jack's Abby Brewing / Framingham, MA
Harpoon Brewery / Boston, MA
Berkshire Brewing Company / Deerfield MA
Castle Island Brewing Co. / Norwood, MA
Yuengling Brewery / Pottsville, PA
Tröegs Brewing Company / Hershey, PA
Victory Brewing Company / Downingtown, PA
Brewery Ommegang / Cooperstown, NY
Captain Lawrence Brewing Co. / Elmsford, NY
Blue Point Brewing Company / Patchogue, NY
Narragansett Brewing Company / Pawtucket, RI
Allagash Brewing Company / Portland, ME
Bell's Brewery / Kalamazoo, MI
New Belgium Company / Fort Collins, CO
Sierra Nevada Brewing C0. / Chico, CA
Lagunitas Brewing Company / Petaluma, CA
Mikkeller Brewing / San Diego, CA
Stone Brewing / Escondido, CA
Radeberger Exportbierbrauerei / Germany
Collective Arts Brewing / Hamilton, ON
Spoetzl Brewery / Shiner, TX
Oscar Blues Brewery / TX/NC
Cigar City Brewing / Tampa, FL
Grupo Modelo S.A. De C.V. / Colonia Lomas de Chapultepec
Citizen Cider / Burlington, VT
White Claw Seltzer Works / Chicago, IL
Wild Basin Boozy Sparkling Water / TX/NC
Artic Summer Seltzer
Truly Hard Seltzer
Boulevard Beverage Company (Fling RTD) / Kansas City, MO
Food Vendors:
Garden Catering
Geronimo
I Want Pig Candy
Singer/songwriter Seth Adam writes compelling, genuine songs with honest lyrics. Taking cues from artists like Counting Crows, Tom Petty, and Jason Isbell, he creates his own brand of Americana rock & roll.
Learn more about Seth Adam at his website!
Eddie Seville is an American songwriter and multi- instrumentalist from New England, best known as the voice & creative force behind the alt-country / roots rock band Steel Rodeo. As a solo artist, a noted member of Frank Carillo's Bandoleros and a frequent special guest, he's performed throughout the continental US, Canada, Europe and the Virgin Islands.
Find more info about Eddie Seville at his website!
NHCPA has partnered with Lyft to provide responsible transportation for Elm City Brew Fest 2019 on 11/23. Enjoy 25% off your ride by entering ELMCITYBREW into the Promo's section of your Lyft app. Maximum discount $5. Subject to Lyft's terms.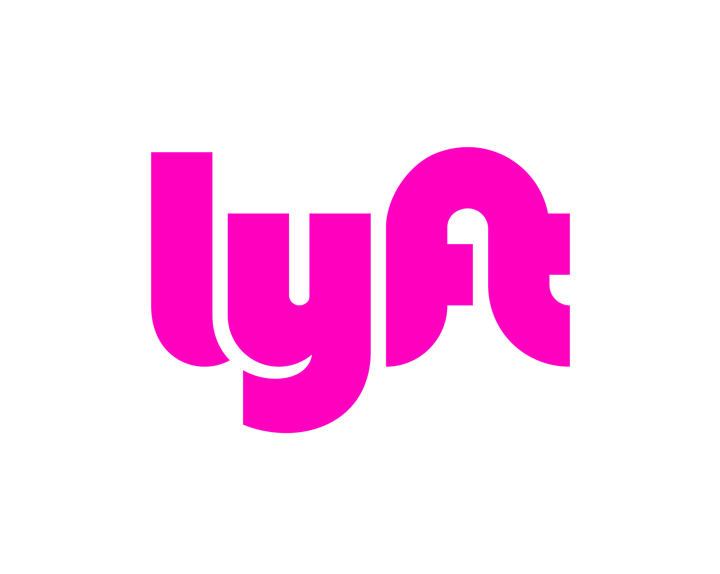 Proceeds to benefit the New Haven Center for Performing Arts, Inc. NHCPA is a 501(c)(3) nonprofit corporation with an educational and outreach mission to build audiences for the performing arts and deepen their engagement. Programs accessible to diverse ages, abilities, ethnic and cultural groups are developed with input from community leaders in art, culture, tourism and education.

Venue Information:
College Street Music Hall
238 College Street

New Haven, CT, 06510