Event Detail Page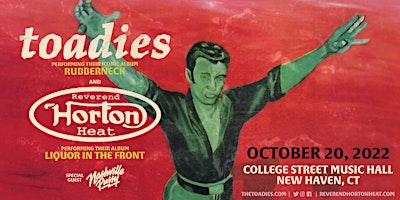 Premier Concerts and Manic Presents:
with Nashville Pussy
Doors: 6:30 pm | Show: 7:30 pm
All Ages
College Street Music Hall
New Haven, CT
This event is General Admission Standing Room on the Floor. There will be limited first-come, first-served seating available in the back.
Masks are strongly encouraged.
By purchasing tickets to this event, you agree to abide by the State of CT, City of New Haven, Artist, and College Street Music Hall's Health and Safety measures in effect at the time of the event. Check back for updates to your event on our website as guidelines and entry requirements are subject to change.
***In the interest of public health, The Toadies have postponed their 10/21/21 show with Reverend Horton Heat until 10/20/22. Hold onto your tickets as they will be honored for the rescheduled date. Refunds are available at point of purchase until 12/29 at 10PM.***
TOADIES
Performing their iconic album "Rubberneck"
What's more thrilling than knowing, in the first seconds of favorite band's new album, that it's gonna be a doozy? When you go into it cold and know instantly that the band knows why you like them—you're still in tune with each other, and you can whip out your air guitar and play along like you know the songs. That's the essence of the rock 'n' roll experience, and that's the Toadies' seventh album, The Lower Side of Uptown (Kirtland Records).
Opening track "When I Die" starts with guitarist Clark Vogeler holding a sneering, distorted guitar note. Two seconds later, the full band joins. Mark Reznicek's drums stomp along with Doni Blair's bass and Vaden Todd Lewis' rhythm guitar. Vogeler's note ascends into shrill, singing feedback, fading just as Lewis—in his formidable caterwaul, sings the titular line: "When I die/ don't bring me down/ meet me on the lower side of uptown."
In those 27 seconds, the Toadies hit almost every hallmark of their signature, unique brand of alternative rock. Mammoth odd-time rhythms that put us off-balance. Guitars that grind and saw and gnaw. Evocative, provocative words that harrow and haunt—delivered in that voice. This is why, after 27 years, the Toadies are still killing it.
With their prior album, 2015's semi-acoustic Heretics, the band subverted their fans' expectations, toying with new and different sounding songs and gentler arrangements of classics like "Possum Kingdom" and "Jigsaw Girl." The ensuing tour found the Toadies playing different venues—the kind with seats. Going into the studio for Uptown, Lewis says the group expected that the Heretics experience would influence Uptown's sound. "The intention was that it would be kind of a melding of the two sounds: chill and acoustic, and loud, electric guitars," he says. "It turned into the heaviest record we've ever done." .
"There are a few points on Lower Side that are really fuckin' weird and don't necessarily conjure what we think the Toadies sound like," Vogeler says. Those moments may or may not be readily apparent to anyone but the band. But to them, it signifies something much more important than a simple deviation from the norm. Twenty years ago, they were trying to please label executives. Today, they're free to be themselves. "I think it makes us a better band and, hopefully, better music." All told, The Lower Side of Uptown is an immensely gratifying and thrilling listen that shows the Toadies continuing to build on the creative boost that commenced when they ended a seven-year drought of new music with 2008's No Deliverance.
Whats next? Toadies have enlisted Steve Albini to record their eighth studio album. Bassist Doni Blair refers to Albini as a "bucket list producer." Guitarist Clark Vogeler adds "There are records in each of our collections that were recorded by him which mean the world to us. The sound he brought to records like The Pixies' Surfer Rosa, and PJ Harvey's Rid of Me, capture the feeling of being in a room with a band while they play (quite loudly, it would appear). A personal fave, Wedding Present's Seamonsters saved me in a way that no other record has. The emotion of the songs just pours out of the speakers. His recordings of bands are honest; there's not much in the way of Pro Tools fixing (he records to tape) or studio trickery (no autotune in sight!). It's mostly just a band in a room with microphones, playing the songs, and that appeals to us at this point. We've always felt like we could deliver live, so why not record the band live?"
Toadies have more than 25 years, countless shows and seven studio albums behind them. The Rubberneck track "Possum Kingdom" appeared on Guitar Hero 2 and was featured in a Beavis and Butthead episode. They have played Lollapalooza and ACL, graced the cover of Marvel Comics, released five signature beers with Martin House Brewing, a signature coffee with Full City Rooster, have had a "Toadies Day" declared by their hometown of Fort Worth along with hosting ten Dia De Los Toadies, their festival that launched in 2008 honoring Texas musicians and beyond.
Links: Official Website | Facebook | Instagram | Twitter | Spotify
REVEREND HORTON HEAT
Performing their album "Liquor In The Front"
Loaded .38s, space heaters, and big skies. Welcome to the lethal, littered landscape of Jim Heath's imagination. True to his high evangelical calling, Jim is a Revelator, both revealing and reinterpreting the country-blues-rock roots of American music. He's a time-travelling space-cowboy on an endless interstellar musical tour, and we are all the richer and "psychobillier" for getting to tag along.
REVEREND HORTON HEAT have been the outlet of this creative mind for 29 years, leading to 10 full-length albums, 3 "best-of" collections, 2 DVD releases and thousands of memorable live performances. Never reaching platinum status or having a #1 radio single hasn?t been a problem for the Rev either, the band has continually been a mainstay of late night television and has toured with legendary acts such as Johnny Cash, Motorhead, Marilyn Manson, The Ramones, and many more, all of whom hold the Rev in the highest regard, as a true music industry legend.
Now, entered into a fresh new partnership with Victory Records, REVEREND HORTON HEAT show no signs of slowing down in 2014. January 21st marks the release of their 11th studio album, appropriately titled REV. The album marks a much lauded return to riff-laden, out-of-control rock 'n roll that fans fell in love with when they first heard "Psychobilly Freakout". The album's first single has already turned heads; "Let Me Teach You How to Eat" is REVEREND HORTON HEAT at its finest: tongue-in-cheek and so catchy, it won't leave your head for weeks.
The band has an incredible tour history and, with major shows and tours already booked throughout the year, will make sure you get the chance to dance one more time! Jim Heath and Jimbo Wallace have chewed up more road than the Google Maps drivers. For twenty-five psycho(billy) years, they have blazed an indelible, unforgettable, and meteoric trail across the globe with their unique blend of musical virtuosity, legendary showmanship, and mythic imagery.
"REVEREND HORTON HEAT, he's great and plays the music he believes in and nothing else. Go see him or I'll kill you!!" Lemmy Kilmister (MOTORHEAD)
Rev your engines and catch the sermon on the road as it's preached by everybody's favorite Reverend. REV is out January 21st.
Links: Official Website | Facebook | Instagram | Twitter | Spotify
NASHVILLE PUSSY
Atlanta-based sleaze rockers Nashville Pussy are led by the husband-and-wife duo of singer/guitarist foulmouthed hillbilly Blaine Cartwright and incendiary lead guitarist Ruyter Suys; featured bassist Corey Parks (sister of NBA star Cherokee Parks) and drummer Jeremy Thompson, the group (named in reference to a line from Ted Nugent's Double Live Gonzo! LP) debuted in 1998 with Let THEM EAT PUSSY, originally issued on indie Amphetamine Reptile. An underground hit, the record was reissued on major label Mercury that same year, and the song "Fried Chicken and Coffee" was nominated for a Grammy for Best Heavy Metal Performance. Parks quit in early 2000 and was replaced by Tracy Almazan for HIGH AS HELL. The album came out on TVT and helped grow their cult following as well as touring with MOTORHEAD, SLAYER, LYNYRD SKYNYRD and ZZTOP. Successful international tours and several soundtrack and compilation appearances kept Nashville Pussy busy in the interim before moving to Artemis for 2002's SAY SOMETHING NASTY. The live DVD Keep on F*ckin' in Paris! appeared in 2003. The band returned two years later with the GET SOME! LP in 2005, marking the debut of bassist Karen Cuda. Followed in 2009 by FROM HELL TO TEXAS, the band's first album for SPV Records. In 2014, Nashville Pussy returned with their sixth studio album, UP THE DOSAGE, introducing their latest bassist, Bonnie Buitrago. 10 YEARS OF PUSSY, a compilation of SPV's Hits was released in 2015 ~ Jason Ankeny, Rovi
Links: Official Website | Facebook | Instagram | Twitter | Spotify