Event Detail Page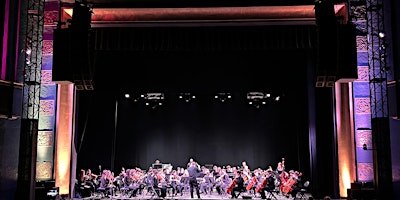 ‎Free and open to the public
Doors: 3:30 pm | Show: 4:00 pm
All Ages
College Street Music Hall.
New Haven, CT
Tickets to this event will NOT be available at the College Street Music Hall box office or at Redscroll Records.
The Greater New Haven Concert Orchestra will feature the 2023 NMS Concerto Competition winner Eden Levy-Roginsky, performing Bach's Violin Concerto in A minor. Eden studies violin with Viara Albonetti at NMS.The orchestra will also perform the first movement of Mozart's Symphony No. 31, and Dvořák's Slavonic Dance No. 3.
The Greater New Haven Youth Orchestra (GNHYO) will perform Márquez's Dánzon No 2 and Boulanger's D'un matin de printemps. The GNHYO will also feature one of NMS's Concerto Competition winners for 2023, Marin Korenaga, who will perform Glazunov's Violin Concerto, Op.82. Marin studies violin with Wendy Sharp.
Greater New Haven Concert Orchestra
Marvin Warshaw, conductor
The Concert Orchestra is geared towards developing the instrumental skills needed to play together well. String students will experience fun and rewarding repertoire and learn instrumental techniques to continue development towards high school level ensembles.
Greater New Haven Youth Orchestra
Netta Hadari, conductor
The Youth Orchestra's focus is to be a tool to fight racism and sexism in society, leading students toward achieving their personal potential for artistic beauty and to foster a sense of fairness and unity through the actions of making music. The orchestra is for highly committed high school players.
GREATER NEW HAVEN YOUTH ENSEMBLES
Since 1961, the Youth Ensembles Program at NMS has offered young musicians unparalleled opportunities to play with other high-achieving students. As they explore celebrated classical pieces and develop crucial performance skills, students are provided with an unforgettable creative experience while they make lifelong friends along the way.
These auditioned ensembles are directed by professional conductors and rehearse weekly. Enrollment in music lessons at NMS is not a prerequisite for joining the GNHYE, but it is certainly encouraged.