Event Detail Page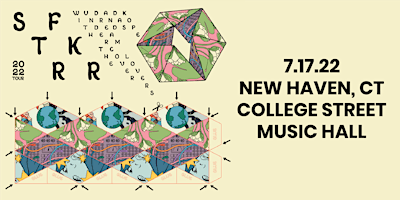 Premier Concerts and Manic Presents:
with The Undercover Dream Lovers, Das Kope
Doors: 6:30 pm | Show: 7:30 pm
All Ages
College Street Music Hall
New Haven, CT
This event is General Admission Standing Room on the Floor. There will be limited first-come, first-served seating available in the back.
Masks are strongly encouraged.
By purchasing tickets to this event, you agree to abide by the State of CT, City of New Haven, Artist, and College Street Music Hall's Health and Safety measures in effect at the time of the event. Check back for updates to your event on our website as guidelines and entry requirements are subject to change.
***In the interest of public health, STRFKR has postponed their 2/08/22 show until 7/17/22. Hold onto your tickets as they will be honored for the rescheduled date. Refunds are available at point of purchase until 2/25/22 at 10PM.***
STRFKR
STRFKR has always been a constantly evolving entity, growing over the years from rambunctious beginnings into the manicured electro-pop perfection they exhibited on their last studio album, 2016's pristine Being No One, Going Nowhere. New single "Never The Same" is a sharp left turn from anything the band has explored before, hitting hard with a minimal arrangement of acoustic guitars, stripped down drums and Josh Hodges' familiar weightless vocals all bathed in lo-fi production. The song is warm and direct, with twisting melodies and a straightforward delivery that highlights how vulnerable the band's lyrics can be. This kind of careful, hushed energy is new territory for STRFKR, and it's a risky move for a band loved for their exclamatory synth pop.
Going out on this ledge results in one of the band's most immediate and rewarding songs, one that's strange and beautiful but as intense as a secret being whispered in your ear.
Links: Official Website | Facebook | Instagram | Twitter | Spotify
THE UNDERCOVER DREAM LOVERS
The Undercover Dream Lovers is the Los Angeles based, psychedelic indie-rock, dreampop project by songwriter and producer Matt Koenig.
Links: Official Website | Facebook | Instagram | Twitter
DAS KOPE
Das Kope is a Los Angeles based, Brazilian born, visual artist and musician. He has been creating his lofi psychedelic world alone in his room for years. Inspired by his feeling of isolation in stark contrast to Southern California's coastal lines and palm trees, his sound is dark, breezy and nostalgic all at once, "as if the Beach Boys were trapped in a Black Mirror episode", he says. Not only does Das Kope write and produce all his music, but he also creates an entire psychedelic visual universe to accompany it.
His debut album 'Where I Live', self released in 2020, now has more than 10M plays on Spotify, and has been supported and covered by tastemakers including NPR, KCRW, Majestic Journal and Paper Magazine. In 2022 Das Kope will venture out on a major 40 date US Tour with STRFKR and The Undercover Dream Lovers. He also has big plans for releasing new tracks early in the year, stay tuned.
Links: Official Website | Facebook | Instagram | Twitter | Spotify