Event Detail Page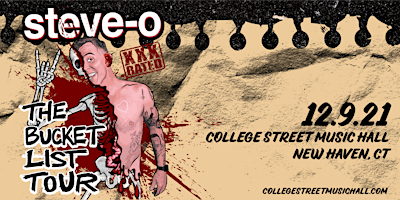 Premier Concerts and Manic Presents:
​
Doors: 7:00 pm | Show: 8:00 pm
Min. Age: 18+
College Street Music Hall
New Haven, CT
This event is fully Reserved seated on the floor.
COVID-19 Vaccination (14 days past second shot) OR proof of negative COVID-19 PCR test (received within the past 72 hours) required for entry. If vaccinated, please bring your vaccination card or clearly legible photo of your vaccination card on your phone and a valid photo ID. If unvaccinated please bring printed or digital proof of your recent negative PCR test. Masks are required for all ticket holders and staff despite vaccination status. You may pull your mask down when eating or drinking only. These policies will remain in place until further notice.
To present proof of vaccination and/or negative PCR test results on your phone, we've partnered with Bindle, a digital health platform that is secure, easy to use and completely anonymous; your personal health information is never shared and your biometrics are not required. Visit the App Store or Google Play Store and search for MyBindle. Set-up is free and simple. If you are unable to provide digital proof, physical proof is also accepted.
STEVE-O
Steve-O (a.k.a. Stephen Glover) was willing to do whatever it took to become famous, even if it meant stapling his ball sack to his leg.
After failing miserably at the University of Miami, Steve-O was a homeless couch-surfer for three years before he attended Ringling Brothers and Barnum & Bailey Clown College, to help further his goal of becoming a famous stuntman.
His relentless attention-whoring ultimately led to working with Johnny Knoxville on a stunt-based reality show. The rest is history. MTV aired the first season of JACKASS in 2000.
Since then, Steve-O has had continued success, as a New York Times best-selling author with the release of his memoir, 'Professional Idiot', and he has established himself as a force in the world of stand-up comedy. He's thrilled to be releasing his new, profoundly multimedia, and wildly explicit comedy special, direct to his fans at steveo.com. It's called "Gnarly", for good reason.
Across his social media platforms, Steve-O has amassed well over 24 million followers and counting, providing an intimate window into his continued antics and colorful life with his finacee, Lux. He's also got a weekly podcast called Steve-O's Wild Ride! with amazing guests which have included Demi Lovato, Shaquille O'Neal, Ronda Rousey, David Dobrik, Tony Hawk, and more.
Steve-O has never stopped being wild and crazy, but he's definitely evolved. He's been clean and sober for over twelve years now, and developed a genuine love for animals (including the four dogs, two cats, and three goats he and Lux have rescued). Steve-O and Lux have plans to start their own animal sanctuary.
Links: Official Website | Facebook | Instagram | Twitter | YouTube