Event Detail Page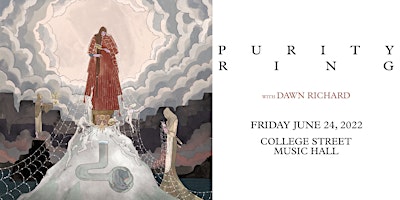 Premier Concerts and Manic Presents:
with Dawn Richard
Doors: 7:00 pm | Show: 8:00 pm
All Ages
College Street Music Hall
New Haven, CT
This event is General Admission Standing Room on the Floor and Reserved Seated in the Balcony.
In the interest of public health, Purity Ring has postponed their 11/13/21 show until 6/24/22. Hold onto your tickets as they will be honored for the rescheduled date. Refunds are available at point of purchase until 11/13 at 10PM.
COVID-19 Vaccination (14 days past second shot) OR proof of negative COVID-19 PCR test (received within the past 72 hours) required for entry. If vaccinated, please bring your vaccination card or clearly legible photo of your vaccination card on your phone and a valid photo ID. If unvaccinated please bring printed or digital proof of your recent negative PCR test. Masks are required for all ticket holders and staff despite vaccination status. You may pull your mask down when eating or drinking only. These policies will remain in place until further notice.
To present proof of vaccination and/or negative PCR test results on your phone, we've partnered with Bindle, a digital health platform that is secure, easy to use and completely anonymous; your personal health information is never shared and your biometrics are not required. Visit the App Store or Google Play Store and search for MyBindle. Set-up is free and simple. If you are unable to provide digital proof, physical proof is also accepted.
Purity Ring has partnered with PLUS1 to support environmental organizations working to protect the health of our planet and its people.
PURITY RING
After more than five years, Purity Ring have returned to release their third album. WOMB was released on April 3rd 2020 via 4AD and is entirely produced and recorded by the duo of Megan James and Corin Roddick. WOMB chronicles a quest for comfort and the search for a resting place. Lead single 'stardew' is a glittering, transcendent invitation to "just be where you are" – to experience the kind of powerful peace that can only be found by truly coming home.
Links: Official Website | Facebook | Instagram | Twitter | Spotify
DAWN RICHARD
Dawn Richard's Second Line: An Electro Revival arrives worldwide April 30, 2021, on Merge Records. Much like the New Orleans-born artist who created it, Second Line is an unapologetic genre bender that pushes boundaries, expands possibilities, and shatters expectations. It's more than just an album: Second Line is a cohesive sensory experience that questions traditional ideas of sound, production, and visual aesthetics as they relate to music. Its interlocking parts tell an epic story about the quest for artistic expression, with Dawn describing her project as "a movement to bring pioneering Black women in electronic music to the forefront."
She elaborates further: "You never see women appreciated as producers and artists alike—especially Black women in the electronic space. The time is now for us to start recognizing their talent, not only in electronic music but in all genres. I wanna be the reason why a young Black girl from the South can be whoever she wants to be musically, visually, and artistically." Second Line cuts to the chase with its opening suite of dancefloor bangers, immediately displaying Dawn's mastery of layered production and melodic hooks. On the hypnotic "Nostalgia," her pleas of "Do you love me anymore?" are answered on the following track "Boomerang." "Bussifame" builds slowly and assuredly to become a feverish boogie before melting into the complex rhythms of "Pressure." Second Line treats Louisiana Creole culture, New Orleans bounce, and Southern Swag as elemental, allowing Dawn to weave in and out of house, footwork, R&B, and more. As she says, "I am the genre."
The story of Second Line centers on Dawn's persona King Creole, assassin of stereotypes, a Black girl from the South at a crossroads in her artistic career. To move forward, she decides to look back, but where previous album New Breed took influence from her father, Second Line is illuminated by Dawn's mother. Her proud
repeated proclamation of "I'm a Creole Girl" introduces the ecstatic dancehall pop of "Jacuzzi," and later, on the cinematic album centerpiece "Mornin | Streetlights," she answers Dawn's question of how many times she has been in love. Intimate conversations like this between the two are interlaced throughout Second Line, giving credence to how the protagonist came to be, and direction to build a lane forward.
It's no surprise that King Creole's story parallels Dawn Richard's. As a founding member of Danity Kane, and later with Diddy's Dirty Money, Dawn was able to explore the ins and outs of commercial pop music. As a solo artist, she opted to self-release her music. Over the span of five critically acclaimed full-length albums, Dawn has made the message clear that she will not bow down or bend to industry norms. All the while, she's built her resume with enough extracurriculars to make your head spin: Cheerleader for the New Orleans Hornets? Check. Animator for Adult Swim? Check. Owner-operator of a vegan pop-up food truck? Check. Martial arts expert? Check!
Why "revival"? Because Second Line embodies the heritage of soul music and the roots of New Orleans, all surrounded by the influences of electronic futurism. "The definition of a Second Line in New Orleans is a celebration of someone's homecoming," says Dawn. "In death and in life, we celebrate the impact of a person's legacy through dance and music. I'm celebrating the death of old views in the industry. The death of boxes and limits. I'm celebrating the homecoming of the Future. The homecoming to the new wave of artists. The emergence of all the King Creoles to come. This is our revival." Dawn Richard is bold, confident, purposeful, and a King throughout Second Line. Are you ready to dance? Are you ready for the revival? Are you ready for Dawn Richard?