Event Detail Page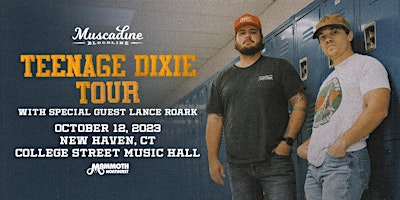 Mammoth Northeast presents:
With special guest Lance Roark
Doors: 7:00 pm | Show: 8:00 pm
All Ages
College Street Music Hall
New Haven, CT
This event is General Admission Standing Room on the Floor, and Reserved in the Balcony.
MUSCADINE BLOODLINE
Proudly independent and unapologetically Southern, country duo Muscadine Bloodline found their true voice on their latest album, Dispatch to 16th Ave. Their sophomore record debuted at No. 1 on the iTunes Country Chart, hit No. 4 on the iTunes All Genre Chart and peaked at No. 17 on the Billboard Chart. Lauded by Taste of Country, Rolling Stone, PEOPLE and Billboard, the duo's new music is the most authentic Muscadine Bloodline yet. Charlie Muncaster and Gary Stanton grew up in Mobile, Alabama, but didn't cross paths until they each started to pursue their musical dreams. In 2012, they forged a friendship when Stanton opened a show for Muncaster's band at Soul Kitchen in their hometown. Since naming themselves Muscadine Bloodline in 2015, the duo has charted three albums, sold-out shows across the country and played the Grand Ole Opry multiple times, hailed often as the most successful independent duo in Country music. Their Southern roots carry over to their band name as well: Muscadine grapes grow in the South while Bloodline represents their heritage.
Links: Official Website | Facebook | Instagram | Twitter | Spotify
LANCE ROARK
Born in the hills of Eastern Oklahoma, Lance Roark is a captivating, high energy singer songwriter. With his intriguing voice, hard driving back beats, and down home lyrics, Roark paints a picture of the joy, heartache, and beauty of everyday life.
Never one to walk a straight line, Roark's music is that of a river. Ever flowing and changing, rising and falling, with beauty or destruction waiting around every bend. While staying true to his bluegrass and country roots, Roark is able to explore the boundaries between country twang and head turning rock and roll. Mix that all together with a little bluegrass, and you've got Lance Roark!
"Better Man", his first EP, is set to release March 31st. Roark poured a mixture of emotions and textures into this record with collaborations and co-writes from artists such as RC Edwards, and Hank Early of Turnpike Troubadours. His music blends his personal struggles and triumphs throughout his life.
Links: Official Website | Facebook | Instagram | Twitter | Spotify