Event Detail Page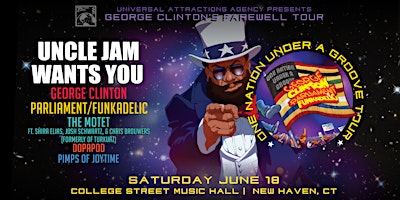 Premier Concerts and Manic Presents:
with The Motet, Dopapod, Pimps of Joytime
Doors: 6:00 pm | Show: 7:00 pm
All Ages
College Street Music Hall
New Haven, CT
This event is General Admission Standing Room on the Floor and Reserved Seated in the Balcony.
Masks are strongly encouraged.
By purchasing tickets to this event, you agree to abide by the State of CT, City of New Haven, Artist, and College Street Music Hall's Health and Safety measures in effect at the time of the event. Check back for updates to your event on our website as guidelines and entry requirements are subject to change.
GEORGE CLINTON & PARLIAMENT FUNKADELIC
The Godfather of Funk
Think of George Clinton and you'll likely conjure an image of a crazy black man with rainbow dreads and garb befitting a galactic shaman literally barking at phat bottomed girls with a sub-atomic "WOOF!" This lovable nutcase is the legendary and internationally renowned grandfather of funk and the founder of the Parliament-Funkadelic MOB, taking the sonic innovations of James Brown and Sly Stone to both outer space AND Neptune while selling millions of records and concert tickets in the process. Quiet as its kept, however, George Clinton's initial approach to the ladies was crooning (when he wasn't cutting hair) as the leader of a standup vocal group he formed in `55 called The Parliaments, emulating the doo wop and love songs that were popular when he was in diapers (well…he STILL wears those on occasion).
What is there left for the North Cackalackee-born grandfather of funk to do after four decades of rockin' steady on the one? He can dip back to an era of sweet street corner soul that was his initial inspiration, take some folks back into time while blowing their minds THIS TIME with new spins on the standards – with a mothership full of special guests that completely have his back! We're talkin' Carlos Santana, Sly Stone, El DeBarge, Kim Burrell, the RZA (of Wu Tang Clan), Shavon (from System of a Down) and the Red Hot Chili Peppers – not to mention P-Funk stalwarts such as Belita Woods and Gary Shider! It's a concept he calls George Clinton and The Gangsters Of Love, produced by Bobby Eli and George Clinton – a blue light grind in da basement that marks the first in a series of special projects for Shanachie Entertainment.
"I'm actually just trying to stay ahead of the game," George says, posted up in the studio of co-producer Mark Bass (Eminem, 50 Cent), "`cuz ALL of this music is coming back like I knew it would. Mark and I figured we'd mix some doo-wop, hip hop and techno doo wop and call it 're bop!' I've been thinking about it for a while now." Techno doo wop? "That's when you play a slow ballad groove against a triple time beat. I first did that on 'How Late Do You Have to Be Before You're Absent.'" George was very purposeful in the diversity of his special guests. "I didn't want the record to be 'nostalgic,'" he states. "I wanted to merge the old school with the new school. Some of the kids didn't even know the original songs, so they did them their own way."
George calls his rag tag assemblage of talents the Gangsters of Love. "Today, everybody wants to get their gangsta on," he says. "Gangsters never want to admit that they're in love, so they play it off. I'm trying to give them something they can take back to their ladies but still keep it gangsta."
Thus the decades spanning boomerang ride of George Clinton and Some Gangsters of Love – songs dear to George's heart such as the late, great Johnny Ace's "Pledging my Love" from the `50s, Motown marvel Marvin Gaye's "Ain't That Peculiar" from the `60s and Maestro of Love Barry White's "Never, Never Gonna Give You Up" from the `70s. George Clinton sings Barry White? You've got be kidding, right? "The Barry White song was hard as hell," he admits! "I had to do some for real work to get the intonation along with the groove. I'm really proud of it. I don't know if I can do it on the stage yet (laughs), but we'll see. People forget that I sang lead on 'One Nation Under a Groove' and 'Knee Deep.' I knew I still had it!"
The jump off for George to seriously pursue this kind of music again came from a multiartist one-off project he participated in a couple of years back called A Soulful Tale of Two Cities: Detroit and Philadelphia, on which he sang former Delfonics member Major Harris' ebony boudoir classic "Love Won't Let Me Wait" (produced by Bobby Eli). "I surprised myself when I pulled that off," he says. Now on Gangsters of Love, he cruises through Ruby & The Romantics' "Our Day Will Come," Tommy Edwards' "It's All in The Game" and The Heartbeats' "A Thousand Miles Away." Most of the rhythm tracks and George's vocals were laid in the Philadelphia studio of Bobby Eli (a Philly Soul veteran whose credits stretch from Blue Magic to Atlantic Starr).
And then there are many friends with whom George linked up in various stops along his travels. "I did 'Let the Good Times Roll' with RZA and the Chili Peppers out in L.A. while I was working on some soundtrack stuff for Quentin Tarantino," he shares. "We cut it at the guitar player's house! Then I hooked up with Sly where he lives now back in Northern California. He sang on 'Ain't That Peculiar,' but plays keyboards all over the project." Having his old friend Sly on the record – an icon he has collaborated with on several past occasions, most significantly the early `80s club jams "Hydraulic Pump" and "Pumpin' it Up" – was very special for George. "Being on my record is the first thing Sly has done on record since…forever! He had a lot of fun singing with El DeBarge. A couple of songs came out so good he wanted to keep them for himself! He did a version of 'Fever' and added lyrics that relate to global warming. He has such perfect vocal pitch, when uses a vocoder it's better than anybody I've ever heard. Sly showed me a lot about vocals, made me work even harder."
George was also able to do tracks on home turf back in Detroit, including remakes of two of his songs: "Heart Trouble" (a `60s hit for The Parliaments) and "Mathematics of Love." "I originally wrote 'Mathematics' for Michael Jackson around the time of his Dangerous album, but me and the P-Funk All Stars wound up recording that upbeat version on our CD T.A.P.O.A.F.O.M (The Awesome Power of a Fully Operational Mothership) in 1996. On Gangsters of Love, we slowed it down to a ballad for Kim Burrell, one of the greatest gospel singers in the world today."
George was in for another surprise when he sent Carlos Santana a tape intending for him to play on a remake of the `50s hit "Sway," but the guitar legend gravitated to another track altogether. "Carlos never even made it to 'Sway,'" George recalls. 'Gypsy Woman (a 1961 smash for the vocal trio The Impressions led by a young Curtis Mayfield) also happened to be on that tape. Carlos had been dreaming of doing a version of that song which I did not know because Curtis is my all-time favorite songwriter, other than Smokey Robinson."
The music of Gangsters of Love is at the service of bringing love back to the people – people more in need of it now than ever before. "Blue Lights in the Basement is about making love to the point where you don't feel ashamed to take out a ukelele and serenade your lady," George schools – "to get down on one knee and ask her to marry you…or beg her for some p**sy! When rappers are rappin' about 'my bitch' – I don't care how gangster they think they are – they're still trying to impress a girl. They're just using another language – and the girls of their generation don't have a problem with it! I made the mistake of trying to tell some young bloods on the street not to talk that way in front of the ladies. They looked at me like, 'Oh, no, here comes 'Captain Save-a-Hoe!'"
Thankfully, George Clinton is in possession of the street cred to reintroduce concepts of timeless romance to a near-clueless generation. His classics such as "Flashlight," "Atomic Dog," "Get Off Your Ass and Jam" and "Aqua Boogie" have been covered and sampled by so many rockers, rappers and turntable scratchers that they're like new tunes today. His plan is to include a couple of songs from Gangsters of Love in a showcase smack in the middle of his patented funk fests. "There will be a point in the middle of the show where we slow it down – like when Prince sat on a stool and played 'Little Red Corvette' on acoustic guitar. I have to be real careful not to get too excited before that because that's when my voice gets real heavy. So I'll have to do like the 1978 tour when we had Junie Morrison rehearsing all the Parliament-Funkadelic songs so I can hit them with the soft stuff. I've also considered doing some lounges because it's funny as hell to think of P-Funk in that light. We have some very good jazz musicians in the band. I could actually do a show like that which would turn it into a club setting."
68 years-young, George Clinton has several other projects in the hopper, including a salute to Motown and a solo album by longtime P-Funk All-Star siren Belita Woods. The master is also mindful that most of the folks whose songs he's singing on Radio Friendly are no longer here, but he has no intention of joining them in Soul Heaven anytime soon. "I ain't going nowhere," he declares. "I feel like I'm starting over right now…for real!"
Links: Official Website | Facebook | Instagram | Twitter | Spotify
THE MOTET
Ft. Shira Ellis, Josh Schwartz, Chris Brouwers (formerly of Turkuaz)
Since 1998, The Motet have inspired the world with their unique style of dance music. Over the course of nine full-length albums, they've traversed the lines between funk, soul, jazz, and rock and built a diehard audience in the process. They've headlined Red Rocks Amphitheatre six times and sold out countless legendary venues coast-to-coast. In addition to racking up nearly 20 million total streams and views, they've also garnered widespread acclaim from numerous publications including Relix, Glide Magazine, and AXS. The band has also graced the stages of festivals such as Bonnaroo, Bottlerock, Electric Forest, Bumbershoot, Summer Camp, and High Sierra.
Links: Official Website | Facebook | Instagram | Twitter | Spotify
DOPAPOD
Symmetry defines Dopapod. The band and each of its seven albums sports a palindromic name, meaning it can be read the same forward as backward. More than that, balance has become the band's modus operandi, with the group consciously juggling the darker tones of heavy rock with lighthearted humor; synthesizing tastes of funk, jazz, bluegrass, electronica, and more within their complex improvisational compositions. During live shows, Dopapod is known for taking fans on a full-out journey, guiding attendees through periods of frenzied dance contrasted with moments of thoughtful contemplation. Since forming at Berklee College Of Music in 2007, Dopapod—composed of Eli Winderman (keys and vocals), Rob Compa (guitar and vocals), Chuck Jones (bass), and Neal "Fro" Evans (drums)—has racked up an enviable list of accomplishments: a flourishing fanbase across the country, yearly show counts tallying into the hundreds, and high-profile appearances at festivals like Bonnaroo, Electric Forest, Summer Camp, High Sierra, and more. Most recently, in fall of 2017, the group released Megagem, the band's fifth studio album, which Glide Magazine called "simultaneously their most focused and thematically ambitious affair to date."
Links: Official Website | Facebook | Instagram | Twitter | Spotify
PIMPS OF JOYTIME
When Pimps of Joytime visionary Brian J started laying down grooves in a New Orleans studio in early 2019, he didn't exactly have a proper album in mind, so much as capturing the steady flow of ideas that were at his fingertips seemingly every day. Over two years and a global pandemic later, Reachin' Up is Pimps' vibrant new full-length album that finds the venerable frontman once again brimming with trademark kaleidoscopic styles and undeniably funky dance music.
An amalgamation of New Orleans and Bay Area funk elements juxtaposed with Brooklyn's indie DIY ethos, Pimps of Joytime mirror the diversity of their communities and eclectic generational tastes. Traditionally, their music has always ignored established norms and colored outside the lines, and you can always expect the band to deliver an incendiary live show with swaggering confidence and undeniable cool. With Brian J consistently at the helm, the group has evolved through various configurations since bursting on the scene in 2004. They've created countless soulful, swaggering grooves across five full length releases, and can be found playing tours and festivals consistently around the world.
With Brian J once again handling a sizable portion of writing, instrumentation, and production, this sizzling new Pimps elixir incorporates crucial contributions from partner Carol C, and several performances from New Mastersounds bassist Pete Shand. Though a decidedly- fresh start for this long-running, genre-blurring collective, on Reachin' Up, Brian J reconnects with old friends like Chauncey Yearwood and Marcus Farrar (Antibalas), whose roots trace back to Pimps of Joytime's earliest efforts. Their contributions are prominently featured on the album's singles, bringing the project full circle.
Splitting time between Brooklyn and New Orleans, and honing his craft as an accomplished live performer, multi-instrumentalist, and producer, Brian J is no stranger to working with legendary talent in both studio and live settings. He's produced a number of celebrated Crescent City artists including Cyril Neville (The Neville Brothers), and shared the stage with George Porter Jr., Zigaboo Modeliste, and the late Art Neville (The Meters), as well as Big Easy legend Eddie Bo. Brian J has collaborated with GRAMMY Award-nominated blues artist Cedric Burnside (grandson of legendary blues musician R.L. Burnside), and written with jazz-funk luminary Roy Ayers, among others.
Brian J. and his cohorts are constantly reinventing Pimps of Joytime, both on-stage and in-studio. With a swath of influences drawing extensively from funk, blues, soul, salsa, house, rock, and beyond, their body of work is an evolving musical mosaic deftly tied together with a devilish dance groove. Reachin' Up finds Brian J inspired by a blossoming romance, stillness in time, and the classic funky disco and seminal dub reggae of yesteryear. The beloved bandleader continues in the tradition of channeling positivity, righteous intention, and subtle spirituality into the essence of Pimps of Joytime.
Links: Official Website | Facebook | Instagram | Twitter | Spotify