Event Detail Page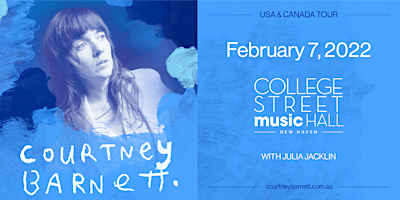 Premier Concerts and Manic Presents:
​with Julia Jacklin
Doors: 7:00 pm | Show: 8:00 pm
All Ages
College Street Music Hall
New Haven, CT
This event is General Admission Standing Room on the Floor and Reserved Seated in the Balcony.
COVID-19 Vaccination (14 days past second shot) OR proof of negative COVID-19 PCR test (received within the past 72 hours) required for entry. If vaccinated, please bring your vaccination card or clearly legible photo of your vaccination card on your phone and a valid photo ID. If unvaccinated please bring printed or digital proof of your recent negative PCR test. Masks are required for all ticket holders and staff despite vaccination status. You may pull your mask down when eating or drinking only. These policies will remain in place until further notice.
To present proof of vaccination and/or negative PCR test results on your phone, we've partnered with Bindle, a digital health platform that is secure, easy to use and completely anonymous; your personal health information is never shared and your biometrics are not required. Visit the App Store or Google Play Store and search for MyBindle. Set-up is free and simple. If you are unable to provide digital proof, physical proof is also accepted.
COURTNEY BARNETT
Four albums into her career, Courtney Barnett remains one of the most distinctive and compelling voices in indie rock. Her sprawling-but-intense live shows oscillate between intimate folk-balladry to glorious, feed-back heavy jams. Armed with a back-catalogue of gems as well as some of her best and most musically adventurous new work to date, Barnett will bring her thunderous rhythm section back to North America for the first time in almost three years.
Barnett's enigmatic and introverted character is made all the more compelling by the honesty and brutal self-reflection laid bare in her writing. With countless awards in her home of Australia as well as Grammy and BRIT nominations, fawning press and an adoring audience, Barnett's rise to global prominence feels both unprecedented and important. Music fans have rarely witnessed the breathless acclaim and superlatives that comprised reviews of Barnett's debut album "Sometimes I Sit And Think, And Sometimes I Just Think" - Rolling Stone praised her as "one of the sharpest, most original songwriters around—at any level, in any genre". 2017 saw the release of the wonderful album "Lotta Sea Lice", an introspective but beautiful album of duets with Kurt Vile while we awaited the release of 2018's fierce sophomore solo album "Tell Me How You Really Feel".
Barnett has a brand-new album due for release in late 2021.
Links: Official Website | Facebook | Instagram | Twitter | Spotify
JULIA JACKLIN
The second full-length album from Australian singer/songwriter Julia Jacklin, Crushing embodies every possible meaning of its title word. It's an album formed from sheer intensity of feeling, an in-the-moment narrative of heartbreak and infatuation. And with her storytelling centered on bodies and crossed boundaries and smothering closeness, Crushing reveals how our physical experience of the world shapes and sometimes distorts our inner lives.
"This album came from spending two years touring and being in a relationship, and feeling like I never had any space of my own," says the Melbourne-based artist. "For a long time I felt like my head was full of fear and my body was just this functional thing that carried me from point A to B, and writing these songs was like rejoining the two."
Links: Official Website | Facebook | Instagram | Twitter | Spotify