Event Detail Page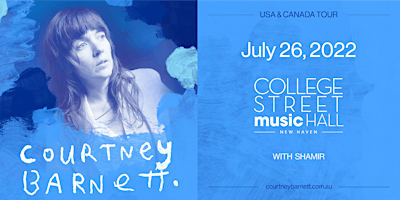 Premier Concerts and Manic Presents:
​with Shamir
Doors: 7:00 pm | Show: 8:00 pm
All Ages
College Street Music Hall
New Haven, CT
This event is General Admission Standing Room on the Floor and Reserved Seated in the Balcony.
*** Due to illness Courtney Barnett has rescheduled her 2/07/22 show to 7/26/22. Hold onto your tickets as they will be honored for the rescheduled date. If you can no longer attend the new date, refunds are available by request until 4/01/22 at 10PM. Please contact Manic Presents customer service at customersupport@manicpresents.com. Please provide your name & order # when you reach out.***
COVID-19 Vaccination (14 days past second shot) OR proof of negative COVID-19 PCR test (received within the past 72 hours) required for entry. If vaccinated, please bring your vaccination card or clearly legible photo of your vaccination card on your phone and a valid photo ID. If unvaccinated please bring printed or digital proof of your recent negative PCR test. Masks are required for all ticket holders despite vaccination status. You may pull your mask down when eating or drinking only.
By purchasing tickets to this event, you agree to abide by the State of CT, City of New Haven, Artist, and College Street Music Hall's Health and Safety measures in effect at the time of the event. Check back for updates to your event on our website as guidelines and entry requirements are subject to change.
COURTNEY BARNETT
Four albums into her career, Courtney Barnett remains one of the most distinctive and compelling voices in indie rock. Her sprawling-but-intense live shows oscillate between intimate folk-balladry to glorious, feed-back heavy jams. Armed with a back-catalogue of gems as well as some of her best and most musically adventurous new work to date, Barnett will bring her thunderous rhythm section back to North America for the first time in almost three years.
Barnett's enigmatic and introverted character is made all the more compelling by the honesty and brutal self-reflection laid bare in her writing. With countless awards in her home of Australia as well as Grammy and BRIT nominations, fawning press and an adoring audience, Barnett's rise to global prominence feels both unprecedented and important. Music fans have rarely witnessed the breathless acclaim and superlatives that comprised reviews of Barnett's debut album "Sometimes I Sit And Think, And Sometimes I Just Think" - Rolling Stone praised her as "one of the sharpest, most original songwriters around—at any level, in any genre". 2017 saw the release of the wonderful album "Lotta Sea Lice", an introspective but beautiful album of duets with Kurt Vile while we awaited the release of 2018's fierce sophomore solo album "Tell Me How You Really Feel".
Barnett has a brand-new album due for release in late 2021.
Links: Official Website | Facebook | Instagram | Twitter | Spotify
SHAMIR
Defined by his confessional songwriting and affecting countertenor voice, Shamir is an eclectic artist who spans lo-fi indie rock, country, and witty electro-pop. When he emerged with 2014's Northtown EP and the following year's full-length Ratchet, the blend of '90s house, pop, and R&B on those releases won him critical acclaim. However, he had to make music that felt truer to himself, and on 2017's self-released Hope, he returned to the rawer sound and soul-baring songwriting of his early music-making days. From there, he followed his muse wherever it took him on 2019's twangy Be the Yee, Here Comes the Haw and 2020's Shamir, which found him embracing pop on his own terms.
Growing up in Las Vegas' Northtown area, Shamir Bailey listened to music ranging from to to and found inspiration in his songwriter aunt. After getting a guitar from his mother when he was nine, he taught himself to play it (albeit upside down). With his friend Christina Thompson, Bailey formed the indie pop duo Anorexia, who released the 2013 EP Bedroom Songs and played South by Southwest.
Around this time, Shamir also began writing songs with dance beats. He sent some of his work to producer Nick Sylvester, who helped shape Shamir's new approach into pulsing yet affecting songs that earned favorable comparisons to the likes of and the roster. The first fruit of their collaboration, "If It Wasn't True," arrived in February 2014 on Sylvester's label. That June saw the release of the Northtown EP, which included that song as well as a cover of Canadian country singer 's "Lived and Died Alone." Shamir signed to soon after the EP arrived, and released his breakthrough single "On the Regular" -- a cheeky mix of house and hip-hop that he wrote within minutes -- in October. His debut album, Ratchet, arrived in May 2015, and he spent the next couple of years touring with and .
After parting ways with , Shamir issued the free album Hope, a return to his lo-fi roots, in April 2017. Not long after its release, Bailey was diagnosed with bipolar disorder. He returned to Las Vegas to recover, and wrote and recorded the bulk of Revelations on a four-track recorder in two weeks. released the album in November 2017. After a move to Philadelphia, Shamir became even more prolific, collaborating with Rina Sawayama on the RINA EP and performing on the television shows Dear White People and Tuca & Bertie. He kicked off 2018 with a flurry of activity, releasing the Room EP in February and followed it a month later with the full-length Resolution, which dug deeper into the raw sound of Hope and Revelations and explored racism and other social injustices. In April, he and covered songs on a Record Store Day single.
Shamir remained busy in 2019 with the country-tinged Be the Yee, Here Comes the Haw and released a pair of albums in 2020. The first, Cataclysm, appeared in March; the second, Shamir, arrived in October and touched on pop as well as the sounds of '90s indie rock. ~ Heather Phares, Rovi