Event Detail Page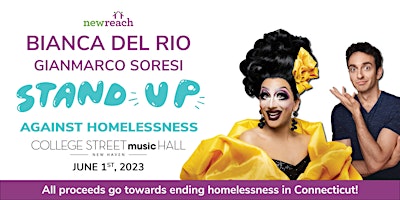 New Reach, Inc. presents
‎‎with Gianmarco Soresi
Doors: 7:00 pm | Show: 8:00 pm
All Ages
College Street Music Hall
New Haven, CT
This event is fully reserved seated on the Floor and Balcony.
Stand Up Against Homelessness with New Reach for a fun and hilarious night out to help end homelessness in Connecticut. This second annual charity event will feature performances from Bianca Del Rio and Gianmarco Soresi.
New Reach
Since 1990, New Reach has implemented best practices across the region to develop a continuum of housing interventions and supports – helping thousands of vulnerable households and families achieve stability and self-reliance. Today, the agency provides a full spectrum of housing services that meet the varying and complicated needs of at-risk families, youth, and individuals. From eviction prevention for public housing residents, to the development of affordable and supportive housing, and everything in between, New Reach serves thousands each year throughout Fairfield and New Haven counties.
BIANCA DEL RIO
Since becoming the season six winner of RuPaul's Drag Race, Bianca Del Rio has been a dimple-cheeked, larger-than-life drag queen and outrageous comic who isn't afraid to shock and offend. Thanks to her snarky frankness, impeccable timing, and politically incorrect humor, she became the show's breakout star, winning its sixth season. Dubbed the "Joan Rivers of the Drag World" (The New York Times), there isn't anything Bianca is afraid to say. A self-professed "clown in a gown", Bianca is quick to point out she is the biggest joke of all.
Links: Official Website | Facebook | Instagram | Twitter | YouTube
GIANMARCO SORESI
Dubbed "the guy from all those General Electric commercials." Gianmarco has appeared everywhere from Blue Bloods to Comedy Central. He has a wide variety of acting talent and a natural ability to make people laugh, working side-by-side with some of the biggest names in Hollywood such as Jennifer Lopez, Tracy Morgan, and Billy Crystal. Make sure to have the popcorn ready, you will not want to leave your seats once he hits the stage!
Links: Official Website | Facebook | Instagram | Twitter | YouTube