The Front Bottoms – Tickets – College Street Music Hall – New Haven, CT – September 14th, 2021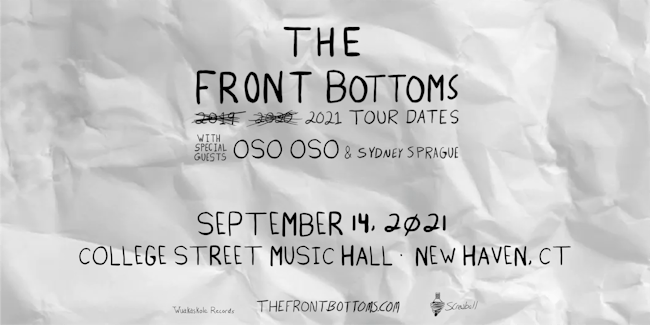 Premier Concerts and Manic Presents:
The Front Bottoms
Oso Oso, Sydney Sprague
College Street Music Hall
New Haven
,
CT
$25.00 - $30.00
Tickets At The Door
with Oso Oso, Sydney Sprague
This event is General Admission Standing Room on the Floor and Reserved Seated in the Balcony.
COVID-19 Vaccination (14 days past second shot) OR proof of negative COVID-19 PCR test (received within the past 72 hours) required for entry. If vaccinated, please bring your vaccination card or clearly legible photo of your vaccination card on your phone and a valid photo ID. If unvaccinated please bring printed or digital proof of your recent negative PCR test. Masks are required for all ticket holders and staff despite vaccination status. You may pull your mask down when eating or drinking only. These policies will remain in place until further notice.
To present proof of vaccination and/or negative PCR test results on your phone, we've partnered with Bindle, a digital health platform that is secure, easy to use and completely anonymous; your personal health information is never shared and your biometrics are not required. Visit the App Store or Google Play Store and search for MyBindle. Set-up is free and simple. If you are unable to provide digital proof, physical proof is also accepted.
THE FRONT BOTTOMS
Comprised of guitarist/vocalist Brian Sella and drummer Mathew Uychich, The Front Bottoms have gripped listeners and press around the world with their ragged honesty and emotional urgency. In 2020, The Front Bottoms released their celebrated new album, In Sickness & In Flames, a twelve song collection produced by Mike Sapone. NME attested, "In Sickness & In Flames is a defining work that showcases a sonic universe, rather than a structured set of songs, expertly capturing the inescapable tension of 2020." A.V. Club declared, "The Front Bottoms are as vibrant as ever on In Sickness & In Flames, a reliably great collection of folk-punk anthems that rattle the soul with crunchy riffs, electrifying hooks, and Brian Sella's idiosyncratic lyricism, which remains as amiable as it is anxiety-ridden." UPROXX added "In Sickness & In Flames features the band's biggest choruses to date, anchored with hooks and deeply personal songwriting that will turn heads," while The FADER hailed it as, "a celebration of sorts for a band perennially on the fringes of a major breakthrough." The Alternative detailed, "While In Sickness & In Flames was written prior to the pandemic, so much of it feels so tethered to our present collective experience, from the introspection and reflective growth that is showcased in the songwriting, to the sweeping highs and lows of the music itself. This album is the perfect companion piece to the anxiety of standing in the face of uncertainty."
Links: Official Website | Facebook | Instagram | Twitter | Spotify
OSO OSO
Oso Oso is the latest project of Jade Lilitri out of Long Beach, New York. After a couple of early records, the band self-released their first fully realized album The Yunahon Mixtape on Bandcamp in early 2017. Despite this low key release, the album quickly gained traction across the scene, winning over both fans and critics with it's diverse, recognizable knack for memorable choruses and instantly relatable lyrics. Pitchfork said " Lilitri is as much of a student of his influences as he is a fan, understanding the exact methods that make the sound of this music hit a certain way at a certain age and linger in the years to come." In 2018 the band was signed by Triple Crown Records, who have reissued The Yunahon Mixtape.
SYDNEY SPRAGUE
sydney sprague is making music for the end of the world.

the 29-year-old singer/songwriter, now a resident of phoenix, arizona, was encouraged by her parents to pursue songwriting early-on. she spent her formative years daydreaming alone in her room (decorated lovingly with britney spears and *nsync posters) and unknowingly incubating a talent that would ultimately lead to her future music career.

backed by familiar-yet-surprising hooks and hard-hitting, topical lyrics, sprague's songwriting continues to evolve. with eyes on contemporaries like her 90's idols, notably avril lavigne, she flawlessly carries that same fire, creativity, and wit into her 2021 release - maybe i will see you at the end of the world.

sprague knew exactly who she wanted to produce her next record: sam rosson (death cab for cutie, mac miller, pedro the lion) at hall of justice (seattle, wa). the album creates a world of sprague's own creation: every detail, down to the apocalyptic artwork, was deliberately painted so that the disparate parts become most vibrant when viewed as a whole.

though not birthed in 2020's quarantine, the album goes a long way towards helping listeners deal with our new reality. that's because sprague can only be authentic: "maybe i will see you at the end of the world is my bucket list all checked off. it was my life goal to make this album at this studio with these people, and now that it's done, and in your hands/ears - i can breathe easy."

sprague announced that she had signed with rude records in october 2020. with an exciting team by her side she released two singles - "i refuse to die" and "steve" - both of which received a sweeping of support from the press, notably landing features in substream, refinery29, npr, uproxx, gig goer, alternative press, rock sound, and phoenix new times.

tonedeaf praised sprague's outspoken lyrics and mature sound, declaring that the record is perfect "for those in the mood for some introspective indie rock by someone who isn't afraid of speaking out" and calling 'steve' "your next must-listen."

sydney sprague's debut lp - maybe i will see you at the end of the world - dropped february 26th on rude records.

Links: Official Website | Facebook | Instagram | Twitter | Spotify

Venue Information:
College Street Music Hall
238 College Street

New Haven, CT, 06510