Fitz and The Tantrums / St. Paul & The Broken Bones – Tickets – College Street Music Hall – New Haven, CT – June 10th, 2022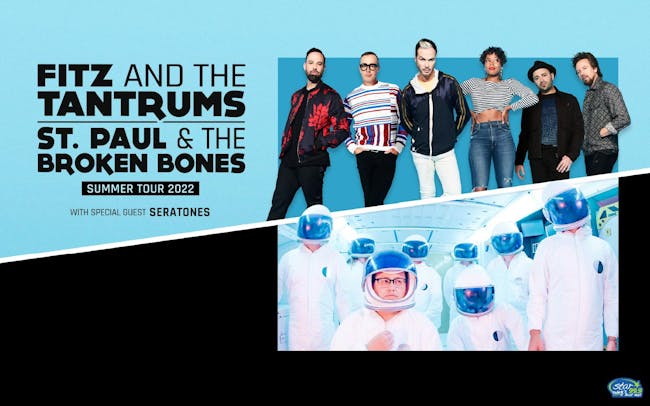 Fitz and The Tantrums
St. Paul & The Broken Bones
Seratones
College Street Music Hall
New Haven
,
CT
$36.00 - $76.00
Sales Ended
with special guest Seratones
This event is reserved Gold Circle, GA standing on the floor and reserved balcony.
Masks are strongly encouraged.
By purchasing tickets to this event, you agree to abide by the State of CT, City of New Haven, Artist, and College Street Music Hall's Health and Safety measures in effect at the time of the event. Check back for updates to your event on our website as guidelines and entry requirements are subject to change.
**A dollar per ticket from this event will be donated to Diversify The Stage, a social impact organization supporting underrepresented communities & next generation leaders looking to break into live entertainment and production careers.**
FITZ AND THE TANTRUMS
Multi-platinum artists Fitz and the Tantrums have quickly grown from independent upstarts to bonafide hitmakers. The LA-based band are looking forward to a big 2019 with the release of the lead single "123456" from their forthcoming album, and a just-announced North American summer tour. Their most recent full length – 2016's "FITZ AND THE TANTRUMS" – spawned the group's biggest hit to date, "HandClap" The RIAA-certified 2x Platinum single went top 5 on both the Hot AC and Alternative Radio charts, and also enjoyed major airplay across the country at Top 40. The band has brought the infectious energy of their live shows to the small screen, with nationally televised performances of "HandClap" on ABC's "Dancing With The Stars," "Good Morning America," and "Jimmy Kimmel Live!," NBC's "TODAY," "Tonight Show Starring Jimmy Fallon," "America's Got Talent," and Macy's Thanksgiving Day Parade, and the syndicated "Ellen DeGeneres Show" among others.
Fitz and the Tantrums' eponymous album followed their breakout major label debut, "MORE THAN JUST A DREAM," which featured back-to-back Platinum-certified, #1 Alternative Radio singles in "The Walker" and "Out Of My League." Both singles also enjoyed Top 15 success at Hot AC. The band has performed countless, sold out headlining shows and is always a standout at music festivals around the world, including Coachella, Bonnaroo, Lollapalooza, Austin City Limits, and more.
Fitz and the Tantrums are: Michael "Fitz" Fitzpatrick (vocals), Noelle Scaggs (vocals), James King (saxophone, flute), Jeremy Ruzumna (keyboards), Joseph Karnes (bass), and John Wicks (drums, percussion)
Links: Official Website | Facebook | Instagram | Twitter | Spotify
ST. PAUL & THE BROKEN BONES
Blood is thicker than water, and it can leave scars. But like it or not, those in our bloodlines are stuck with us—and us with them—for better or for worse. Paul Janeway understands this conundrum of heritage well. The singer of the Birmingham, Alabama–based rock and roll soul band St. Paul & The Broken Bones was born and raised in America's Deep South, a place where social consciousness can still take a backseat to unsavory traditions and where a family's expectations sometimes supersede all else. Despite the fierce familial love, he enjoyed and constantly gave back while growing up—especially to his father and grandfather—from an early age Janeway realized that the way he thought about the world was a little different from those around him, and he began to seek an outlet from which to share what was in his heart and on his mind. Blessed with a powerful voice, a magnetism for connecting with people, and a gift for making music, he traded in a career in ministry to start his own band.
"I've always been the artsy weirdo in the family," Janeway says. "I'm liberal, a blue dot in a very red part of the world. When you're from Alabama you have to go out of your way to make people understand that you think a little differently. But we're an Alabama band—it's who we are."
St. Paul & The Broken Bones formed in 2012, releasing their debut album Half the City in 2014 and its follow up, 2016's Sea of Noise, too much acclaim. Those strong efforts helped place them on the national scene, and the band worked hard to prove they were no mere retro-soul band—from touring the world relentlessly, including being selected to open for The Rolling Stones and headlining two nights at the Ryman Auditorium, to TV appearances including The Late Show with David Letterman, Jimmy Kimmel Live, Conan, Austin City Limits two appearances on The Late Show with Stephen Colbert, one being the very first episode. Janeway's fearless showmanship, thoughtful lyrics, and dedication to his performance soon became the band's calling card, and paired with the inventive and skillful direction of co-band leader Jesse Phillips as well as a full eight-man roster comprised of some of the best young instrumentalists in the South, they soon became a must-see event. (In addition to Janeway on lead vocals and Phillips on bass and guitar, the lineup is rounded out by Browan Lollar (guitars), Andrew Lee (drums), Al Gamble (keyboards), Allen Branstetter (trumpet), Chad Fisher (trombone) and Amari Ansari (saxophone), who replaced Jason Mingledorff following the album's recording) Over time, Janeway has learned the art of balancing expectations and how to reconcile his past with his future, just as his band have learned how to overcome their perception by pushing against its ceiling. In embracing those things he cannot change, he has forged ahead as an artist and as a man. And with his band's new album, Young Sick Camellia, Janeway has created a space for St. Paul & The Broken Bones to rival any forward-thinking band making music today, based on a concept all-too familiar to him: family, and how we love them despite our differences.
Upon completing Sea of Noise, Janeway began working on its follow up immediately, with the idea in mind to write directly about his relationship with his father and grandfather. "I was dwelling on my family and the complexity to all the men's relationships," Janeway says. "My papaw was not a warm person, but he showed his affection through hard work. He and my father had a complicated relationship and didn't communicate well. This record is about me growing up in a digital age, and my father and papaw growing up in their different times, and exploring the dynamics of those relationships."
Originally envisioning the project as a trio of EP's, each from the perspective of the three generations of Janeway men, he realized he had enough material in the first volume—written from his own vantage—to make a full-length record. Assigning himself the image of a camellia, the Alabama state flower, Janeway uses his lyrics as a conduit for interpersonal conversation and excision, in addition to pieces of an actual conversation with his grandfather he recorded months before his unexpected death. "I wanted to explore the dynamics and their views on life," Janeway says. "It's an extremely personal record—not that I haven't written personal records before, but this is more in-depth and with a vulnerability that I was maybe scared to try. But you have to have that exposure. I think we're in a much better place than we've ever been as a band. We weren't totally confident with the 'retro soul' label that was thrust on us and we knew we had to explore more ground. Young Sick Camellia is the first record we've done that just felt right all the way through, like we're doing us. Nothing was rushed and everything has intent."
Janeway leaned more heavily than ever before on his band to help with the songwriting. In the past, he and Phillips served as a "two-headed monster" who ultimately called all the shots; this time around, however, the band was invited to add song ideas. "The record really flexes the muscle of this band," Janeway says. "Musically, it's a kaleidoscope of flavors and it covers a lot of ground."
Furthering this notion, the band chose the hip-hop / modern R&B producer Jack Splash to record in Los Angeles, a choice that Janeway credits with taking the band outside of their comfort zone and establishing a connection to a new sound. Fusing the use of samples, fresh rhythms, and new instruments with Janeway's specific interpersonal subject matter, Young Sick Camellia is sure to place St. Paul & The Broken Bones in a whole new sphere. From the opening space-opus of "Convex" to the snappy, buoyant charm of "Apollo" and the intensely personal bent of "LivWithoutU" and the album-ending "Bruised Fruit," it's clear that this represents a new chapter of the band. As Janeway howls the words "Blood is what I can't escape" during the final number, the chills are affecting, reminding the listener of the place and circumstances from which the singer and the album come—especially considering the unexpected passing of a central character, one whose appearance is both heard and felt throughout.
"I recorded a conversation some months ago with my papaw, who was in his 80's and had smoked everyday since he was nine," Janeway says. "I made the decision to use that audio on the record, and then he got sick and passed away a few months later after we had finished the album. It felt like that's why we did this; it's just the way the world works, a beautiful thing. In my mind music lives forever, and that will always be there."
Just as his family makes a grand imprint in the very DNA of Young Sick Camellia, Janeway and his band are set to have a lasting impact in today's musical landscape. The album they have created, whether a standalone affair or eventually accompanied by successive parts of a trilogy, challenges the notions of what a soul outfit can be, and establishes their reputation as a band as likely to make you think as to dance. A darker, more cerebral affair, the album embraces a variety of sonic experiments and blurs boundary lines but its focus remains sharply on the titular frontman and his bold, intensely personal and brave examination of his own family tree and how it has shaped him.
"For now, this feels like our opus," Janeway says. "But the story doesn't feel finished, so with that, it has to continue. We've already got music for the next one. What I perceive this to be is different from anything anyone is doing. It's so terrifying and so fun at the same time."
Links: Official Website | Facebook | Instagram | Twitter | Spotify
SERATONES
"Revolution is not a one time event."

Those words of Black feminist icon and poet warrior Audre Lorde's resonate strongly with A.J. Haynes. Whether in her capacity as the frontwoman of the Shreveport, Louisiana-based funk-soul-rock group Seratones or as a reproductive rights advocate, Haynes knows well that no singular revolution or simple linear narrative can contain the true strength of revolution—the kind of complex, disruptive, personal revolutions that can open transformative portals to a better future. And on Seratones' forthcoming third album, Love & Algorhythms (due April 22nd via New West Records), Haynes foregrounds the joyful struggle to find pleasure in a world designed to destroy you. "This is a protest album built on the form of protest I'm most interested in at this moment: getting present and sitting through difficult things with abundant joy," Haynes says.

Love & Algorhythms emerges from a duality of desire: urging the listener to start repairing their world and being a part of that artful change itself. The celestial burst of lead single "Good Day" signals that arrival, Haynes' thrilling falsetto lifting to the skies on a neon flutter. "Do you really want to get better?/ Do you really want to get well?" she sings, Travis Stewart's super ball bass line bouncing through the mix. Written in part as homage to novelist Toni Cade Bambara, the track blends Black gospel vocals and polyrhythms with roots spread throughout the African diaspora to produce an effervescent immediacy.

Working with producer Paul Butler not only helped the band unlock a richer sound, he proved the perfect complement for Haynes' interest in astrology, divination, and manifestation practices. As the band wrote, Haynes assigned each song on the album a different cosmic element and, along with Butler, the quartet explored what that astral connection could mean. "'Good Day' is Mars, the planet of urgent sex, hence the demanding tone: turn off your phone and get present, turn me on, get out of the cerebral and into your body," Haynes says. "These drums can also be a warning—that we are willing to fight to protect what is worth saving, to love our community fiercely. When I was tracking vocals for the bridge, I sang so hard that I got a headache!"

That concept of relentless self-nurturing and engagement proved especially crucial. With COVID lockdowns approaching just as Seratones returned home at the end of the tour for their last studio album (2019's rapturous Power), the group were forced at first to plan and write over Zoom. Combining those sessions with her work as a counselor at one of the last abortion clinics in Louisiana proved especially taxing for Haynes. And while music offered her a joyful escape, she trusts that Love & Algorhythms can do the same for listeners. "I would be close to burnout, but it would help to get home, take a shower, and put on Donna Summer's 'I Feel Love' or Journey in Satchidananda by Alice Coltrane," she says. "Alice Coltrane and Donna Summer are both divine in their own different ways."

In the vein of that all-encompassing spirituality, Haynes invites the listener to crack the world in two on album opener and second single "Two of A Kind", drummer Jesse Gabriel's scorched disco beat riding through clouds of red dust. "Wish I could see the world through both of your eyes," she cries out, before the song reaches its ecstatic groove that ripples out through the entirety of the album. Following that track with the appropriately sensual "Pleasure" continues Seratones' unexpected fusion of disco-indebted vocals and buoyant synth rhythms. Inspired by the writings of Afrofuturist author Octavia Butler, the track's immaculately layered vocals soar and slide along the slopes of sawlike synths. "In 'Pleasure', I wanted to emulate one of Butler's aliens playing in a Giorgio Moroder Venutian soundscape, a gleaming creature designed for pleasure and multiplicity," Haynes reveals.

Love & Algorhythms is a powerful step forward in its ability to blend undeniably personal lyrics and an entire universe of conceptual influences into a statement of insistent joy. "I've learned from watching my grandmother, my great-grandmother, from reading bell hooks and being immersed in Audre Lorde's writings," Haynes says. "There's a whole lineage within Black feminism of centering pleasure and centering joy as a means to liberation, and I feel very privileged to have my art richly rooted in Black feminism."

Honoring that strength of tradition gave Seratones a freeing opportunity to let their imaginations unfold, to let the universe expand and explode with each track. After growing from the punk and rock world, folding soul and R&B into their sound, and now exploring the synthesis of electronic music, Love & Algorhythms unfurls in unexpected twists and turns. From the rippling, trippy "Dark Matter" to the fragrant and breezy "High", the record seeps into the heart, mind, and limbs in equal measure.

Seratones urge you to move joyfully in the moment, and parsing that movement through astrology, Black feminism, and Afrofuturism proved redemptive for Haynes. "The really valuable part of the creative process is being present in challenging times, being able to tap into something that people need to hear versus something that is just for the sake of it," she says. "There's this American ideal of the pursuit of happiness, but I don't want to chase happiness. I want bliss and wholeness. This world we've created, that we were able to discover through working through ourselves—I want to sit in this world longer."

Links: Official Website | Facebook | Instagram | Twitter | Spotify

Venue Information:
College Street Music Hall
238 College Street

New Haven, CT, 06510