CANCELLED: Dexys – Tickets – College Street Music Hall – New Haven, CT – November 14th, 2023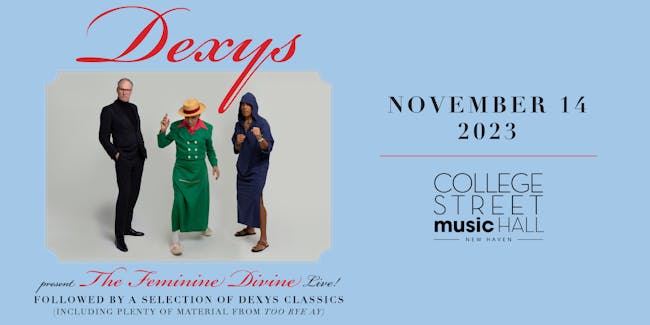 Premier Concerts and Manic Presents:
CANCELLED: Dexys
College Street Music Hall
New Haven
,
CT
$53.96 - $173.41
Cancelled
An evening with
This event is fully reserved seated on the Floor.
It is with sadness that we announce that - due to circumstances beyond our control - Dexys' November tour of the USA and Canada will no longer take place.
Dexys were really looking forward to playing for their North American fans, and are aware that those who bought tickets will be as disappointed by this news as we are. Refunds are available at point of purchase.
Dexys hope to return to North America as soon as they are able to.
DEXYS
If there is a north star that has guided Kevin Rowland's career, it's ardent sincerity. Having soul, he declared from day one, was radical. "People will always laugh at Dexys," he told Smash Hits in 1982. "That's fine. But I know that what I'm doing is totally honest. I believe in myself." The band's fan club was called the Intense Emotion Circle, for goodness' sake. Sincerity brought him a brotherhood and a smash hit single; it also left him vulnerable, open to corruption by the industry, addiction and a cruel media. Yet Kevin never flinched in his attempt to keep peeling back the layers, in search of his essential truth.

Four years after Dexys' glorious return in 2012 with One Day I'm Gonna Soar, Kevin got the band together again for Let the Record Show: Dexys Do Irish and Country Soul, in which he performed — or rather, inhabited — the songs of his childhood. (And one by LeAnn Rimes) Recording the old song "Carrickfergus," weakness and chill overcame him, he was that immersed in the character looking back from his deathbed. Once again, he had laid everything on the line. But something about the experience felt off. "It is your soul that you're putting out, it's all there," Kevin says today. "And I just didn't feel good about it. I really wanted to get away."

On New Year's Eve 2016, Kevin's mother died. He felt beaten down, drained; wanted to do other things. Maybe a clothing collaboration — though that didn't work out. "I've gone through phases like this before, when people relate to me as 'that guy,' the singer of Dexys," he says, reflecting on the era after "Come On Eileen" when he bristled against the expectations that accompany notoriety. "It's what I've done a lot of the time, but it's definitely not who I am. People put you in a box. I felt agitated." But never mind others, Kevin realised: he had to work on himself. At that point, he admits, "I was not really living. I was just existing. My life had become a facade. It was like I was presenting a certain thing that I thought would be acceptable to people socially. I'd drawn a line under femininity. I was just so tightly controlled, it wasn't pleasant."

He started travelling to Thailand, partly to escape Britain's winters, partly to explore the East Asian philosophies he came across while exploring the idea that the body keeps the score. "When people saw me doing that," he recalls, "they said, 'oh now you can do music in a new way.' I was like, no! I don't want new music. I'm not doing it so I can do bloody music. I'm doing it for me." He knew he needed to refocus his energy. Tao, qigong. But he got more than he bargained for. In one session, the teacher described the women present as goddesses. "And I was thinking, goddess? She's not a fucking goddess," Kevin scoffs. "But then as time went on, I started to realise, actually, women are goddesses. I thought about how powerful they are. That sort of thought had never been allowed — not by me, certainly."

After the bodywork and meditations loosened him up, Kevin started to see things differently. Not just women, but the whole concept of masculinity he had been raised with: an education and an un-learning that he traces across the arc of Dexys' fifth album of original material, The Feminine Divine. "It was an act," he says. "I was really full of fear, thinking I have to act this way otherwise I'm gonna get fucked over." Revitalised by a new kind of energy and positivity, Kevin reached into his archives to pull out a song he'd written around 1991. "I'm your man and I'll die to defend you," he sings on the swashbuckling "The One That Loves You," a song so twinkling in its self-assurance that it's almost blinding. Back then, he says, he meant it. That's who he thought he needed to be in a relationship: protector, defender, possessor. "That's the environment I was brought up in. If anyone looks at your girlfriend the wrong way, or tries it on, it's a fight. That's how it was. But it was a facade. An honour thing. Sort of ridiculous, really."

As the opener of The Feminine Divine, it's a satirical, tough-guy feint before he lifts the curtain on "what I really feel," as announced by a classic bit of Kevin spoken word that leads into the second song. That one may be familiar to eagle-eared listeners: "It's Alright Kevin (Manhood 2023)" revamps "Manhood," a song released on Dexys' 2003 best of Let's Make This Precious (then their first new material since Dexys split in 1986). Twenty years ago, Kevin sang of his fears of rejection, his inability to love; how his loneliness was killing him. Today, to a rollicking, anxious crescendo reminiscent of "Funny Girl" and Pulp's "Mis-Shapes," he locates the cause: "I never truly was myself / Just an amalgam off the shelf … I've tried so hard to be a man / And now I don't care if I can / It was so hard not being real."

In Kevin's family, he recalls, men were supposed to be men. Hence Dexys: at first he was their benevolent leader. But one incarnation later, and now deeply entrenched in the music industry, "I got stressed and scared and as we started to get more success, I froze and started to control. It was all fear-driven." He recognised similar patterns in how he treated women: "I just don't like the way that I was," he says plainly. There is shame in The Feminine Divine, but Kevin also swaggers with the force of these revelations on its Music Hall-inspired first half, much of it written with original (and enduring) Dexys trombonist Big Jim Paterson. "Were you frightened of your violence?" he asks himself on "I'm Going to Get Free." "I had so much hate in me."

Today the band is more of an "organic" assemblage — Kevin, Jim, Sean Read and Mike Timothy. "It's always just natural with me," says Kevin. "The inspiration comes first, I think about what I can do, what songs I've got, then approach the band." He describes their current lineup as "very much the nucleus, these days."

The record's first half is capped by "Coming Home" — another song written in the early '90s with Jim Paterson. Here it's a jazz-hands declaration of our hero's return to his true self. It's no coincidence that several of these songs reach back to that period — Kevin's wilderness years, where he binged on cocaine and retreated from public life. "The best thing that ever happened to me, really, was that I was completely beaten, totally beaten by drugs and had to start again, reappraise everything — look at the old ideas that didn't really work any more." It would take until the end of that decade for Kevin to reappear with My Beauty, on which he covered the fiercely heartfelt power ballads that had stirred him from his decline. He also embodied his feminine side, wearing lingerie and a specially commissioned dress on the cover. "I was starting to wear more feminine clothes and I really wanted to have some of the softness that women have," he says. The response was brutal. This was the Loaded magazine era. Men were not only still men, masculinity had warped into a laddish caricature. The experience made Kevin ill. And his lifelong self-doubt reared its head again. "It really made me want to withdraw. By the end of 1999, I was wearing hobnail boots and jeans, and I grew a beard."

When Kevin reissued the album in 2020, he knew it had to have the same cover. This time, he received widespread recognition of his unvarnished sincerity, and his ahead-of-its-time attitude to gender presentation. In the video for "Rag Doll," Kevin appeared alongside his grandson, Roo, who had been wearing dresses since he was 12. "The experience was healing," says Kevin, as was finding himself in an era where conversations around gender identity are so much more nuanced. "It makes total sense. There's masculinity, there's femininity, we're all somewhere on that spectrum and maybe that energy is different at different times."

The second side of The Feminine Divine is a saucy, synth-heavy cabaret that sets these ideas to an S&M power-play (written in collaboration with Sean Read and Mike Timothy). It sounds like nothing else Dexys have ever done: steamy, fizzing and sultry, at times as doom-laden and heavy as a David Lynch soundtrack; at others, as raunchy and funky as Betty "Big Freak" Davis or the Ohio Players. Like Serge Gainsbourg through the looking glass, Kevin repents for his behaviour on the title track — "I knew they were more powerful than me and I just couldn't hold that near!" — and concludes: "Women are the superstars, the goddesses on earth / They need to be cherished, worshipped and adored / It's not for them to do things for us / We've got it the wrong way round / We should be serving them for all we're worth."

From then, Kevin takes an unexpected turn into submission, begging to be his woman's "bitch" ("My Goddess Is"), submitting to her terms ("Goddess Rules"), pledging to be "your pet" ("My Submission") and cherishing a dance with her before she goes off to explore the open side of their relationship ("Dance With Me"). "What I'm saying about that is personal rather than biographical," Kevin clarifies. "I've been in those situations but I might not have been as extreme. It's just fun really — bedroom stuff." Submissiveness isn't the solution to the protagonist's questions about gender, he explains. "It's just that this character certainly wouldn't have been open to that in the past." It wasn't until Kevin spent time in Thailand that he realised what a "Catholic view of sex" he still had from his boyhood. "I really did. Part of me thought it was bad in a way, it was a necessary function. I preferred not to have those urges. The Dow was great on that — that's where I learned that the sexual energy is the life force energy."

Today, he says, he's still very self-critical. Still a work in progress. "I can feel quite alienated a lot of the time and still spend too much time alone." But he's more open-minded. Doesn't seek to have the upper hand over women any more. He turns 70 this August. "I'm not looking forward to that," he winces. "I don't like getting old. I don't think there's much to recommend it, really." But there's a peace to continually peeling back the layers in search of that essential truth — to being "myself again," as he puts it on "Coming Home," unabashedly sincere as ever. "I've been doing this a long time," says Kevin. "But I feel I've got to it now."

Links: Official Website | Facebook | Instagram | Twitter | Spotify

Venue Information:
College Street Music Hall
238 College Street

New Haven, CT, 06510