Beartooth: The Below Tour Part 2 – Tickets – College Street Music Hall – New Haven, CT – April 30th, 2022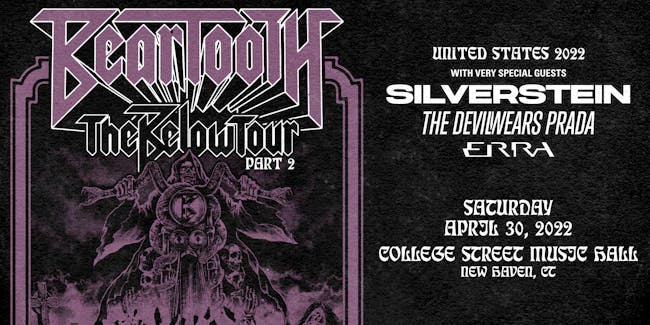 Premier Concerts and Manic Presents:
Beartooth
Silverstein, The Devil Wears Prada, ERRA
College Street Music Hall
New Haven
,
CT
$42.00 - $46.50
Tickets At The Door
with Silverstein, The Devil Wears Prada, and ERRA.
This event is General Admission Standing Room on the Floor and Reserved Seated in the Balcony.
Masks are strongly encouraged.
By purchasing tickets to this event, you agree to abide by the State of CT, City of New Haven, Artist, and College Street Music Hall's Health and Safety measures in effect at the time of the event. Check back for updates to your event on our website as guidelines and entry requirements are subject to change.
BEARTOOTH
A handful of bands play the "devastating riffs and catchy hooks" game, but for BEARTOOTH, this music is the difference between life and death. As easygoing, charming, and outgoing as these young men may appear, there's an inner turmoil churning away, only satiated by the savage music they play. Suicidal ideation, emotional desolation, and desperate dark nights of the soul are chewed up and spat out in song after song; cathartic singalong anthems like "Fed Up," "Sick of Me," and "In Between."
Like Nine Inch Nails or Tame Impala, BEARTOOTH is a one-man band in the studio. It began as musical exorcism, conceived in frontman Caleb Shomo's home recording sanctuary, a means to tame the demons of debilitating depression and anxiety he's suffered since childhood. BEARTOOTH harness the sacred and profane to purge inner darkness with a dizzying light. BEARTOOTH's effect on listeners is evident by their highly-engaged audience; invitations to major festivals world and tours with Slipknot, Bring Me The Horizon, and A Day To Remember; and a RIAA-certified gold single.
When Rolling Stone introduced BEARTOOTH as one of 10 New Artists You Need To Know, the sound was rightly described as "like a nervous breakdown, usually with enough optimism to push through." As long as the dueling dichotomy of mental anguish and creative catharsis remain bound together, Caleb Shomo and crew will be here to oversee the show. So please, enjoy the ride.
Links: Official Website | Facebook | Instagram | Twitter | Spotify
SILVERSTEIN
For the past two decades, Silverstein have relentlessly pushed themselves to become the best version of the band for both themselves and their fans. That determination has led the Ontario-based five-piece from their underground roots to becoming one of the most influential bands in their scene, playing two thousand-plus shows all over the globe, and selling over a million records. Now Silverstein are celebrating their 20th anniversary with the release of their 9th, and perhaps strongest album to date: A Beautiful Place To Drown.
While many bands would take their 20-year anniversary as an opportunity to rest on the laurels of nostalgia, Silverstein (vocalist Shane Told, guitarists Paul Marc Rousseau and Josh Bradford, bassist Billy Hamilton, and drummer Paul Koehler) see the landmark as a time to appreciate how far they've come, while also channeling all those years of experience into something new. Rousseau explains, "To me, the best way to honor the anniversary is to keep doing what got us this far. Being adventurous has always been part of what the band does - we keep focusing on moving forward." A Beautiful Place To Drown finds the band deftly balancing their core sound - an intensely dynamic mix of melody and aggression, rooted in the energy of hardcore punk and the unabashed earnestness of emo - with their natural growth as songwriters and evolving inspirations. "We have so many fans that have been with us from the beginning and have grown up with us, but at the same time we have new people that come on board with each album," says Told. "So we really do try to find a way to please the people who have been with us from the start while also having some modern aspect to what we do."
Forged in their longevity, the confidence Silverstein has in one another enables the band to find this sort of careful songwriting alchemy. "Everyone has carved out their role," Koehler says. "And we trust each other in those roles." Rousseau, the "newest" member of Silverstein (after joining in 2012 following four years of touring as the band's guitar tech), found his songwriting duties expanding along with his enthusiasm for pushing the band into new territory. "The only clear objective I have when I start writing is to not repeat myself," he says. "This far into our career I was feeling a lot of freedom because we already have this large back catalog. It felt like a hall pass to see what Silverstein could potentially sound like." A Beautiful Place To Drown fulfills that potential, seamlessly merging the band's evergreen strengths with a daring approach to composition and production. Recorded with producer/engineer Sam Guaiana, the album's 12 tracks blend vibrant contemporary sonics with walls of distorted guitars and pummeling drums to create a sound that's stunningly cohesive, and undeniably Silverstein. "When we started the band, we had a lot of rules for ourselves, but once you let go you realize there's so many ideas you might enjoy trying," Told says. "But we've always made the songwriting paramount. If you boil it down to a great song, it doesn't matter what era it's from or what production it has."
The opening salvo of "Bad Habits" and "Burn It Down" wastes no time in delivering the familiar Silverstein drive, but within the explosive riffs and propulsive rhythm section there's an element of potent pop songcraft—a sharpness to melodies that makes each anthemic chorus all the more effective. The songs also begin to introduce the album's lyrical motifs: an exploration of the mental duress that seems to become more and more inescapable in a world struggling to deal with the personal and societal challenges of modern life. Rousseau explains, "Everywhere you look people are dealing with these controlling invisible forces like anxiety and depression. It can be a suffocating presence." Told adds, "Everything that's going on in the world can directly affect your mental state, and that strife is so palpable that it's found its way into the songs." Tracks like "Shape Shift" and "September 14th" grapple with powerlessness in the face of those who abuse positions of power, while "Infinite" and "Madness" look at the toll of mental illness and the vicious cycles that can exacerbate it.
The latter songs feature two of the album's numerous guest spots, and while contributions from other artists has been a longstanding tradition throughout Silverstein's discography, the collaborations on A Beautiful Place To Drown seem particularly representative of the band's past, present, and future. Old friends (Underoath's Aaron Gillespie, Beartooth's Caleb Shomo, and Simple Plan's Pierre Bouvier) and new ones (Interval's Aaron Marshall, and Princess Nokia) make appearances that feel like a celebration of the band's wide-reaching impact as well as their ability to win over listeners in all worlds of music. "I think people care less about labels and genres than they ever have," Told says. "We've always been okay with how emo can mean so many different things, and from the start we wanted our band to bend genres."
That willingness to follow their own path has been an integral part of the past 20 years of Silverstein, and A Beautiful Place To Drown once again proves the band's unique compass is true. "I think we've always had something to prove," Koehler says. "When you lose that, you pack it in. But we always have goals, things we want to do and want to do better." Told laughs, "I don't know how other bands operate, I'm still in my high school band!" But looking at all they've accomplished and all that's to come, he echoes Koehler's sentiment: "It's harder to gauge success these days but we're still making what we believe is our best music. It's nice to know that we've survived and we did it in a way that feels right."
Links: Official Website | Facebook | Instagram | Twitter | Spotify
THE DEVIL WEARS PRADA
The Devil Wears Prada is storming back with their much-anticipated EP release "ZII" landing on May 21, 2021. The band are well-known for their early definitive albums including 2009's "With Roots Above and Branches Below", 2010's "Zombie EP", and 2011's "Dead Throne" that spawned a new generation of metalcore, along with their intense live performances including several headlining stints on the Warped Tour and in support of massive groups like Slipknot and Slayer on the Mayhem Festival, as well as tours with A Day to Remember, Parkway Drive, and Bring Me The Horizon.
"ZII" sees the band writing a new musical chapter, finding the group redefining an aggressive metal sound with intricate guitar work, passionate vocals that evoke a cinematic zombie onslaught, and complex and grooving drum work that hammers throughout the EP. Says Mike Hrancia on the lyrical inspiration, "Before, there were five songs about how to fend off the apocalypse. Now, there are five songs of hopelessness against the hoard."
The band re-entered the conversation with the release of "The Act" in 2019, realizing a new sonic vision with songs like "Chemical" and "Lines of Your Hands" showcasing both Mike Hranica and Jeremy DePoyster's vocal range as well as the songwriting abilities of Jonathan Gering and Kyle Sipress.
The Devil Wears Prada is singer Mike Hranica, vocalist/guitarist Jeremy DePoyster, guitarist Kyle Sipress, keyboard player Jonathan Gering, bassist Mason Nagy, and drummer Giuseppe Capolupo.
Links: Official Website | Facebook | Instagram | Twitter | Spotify
ERRA
Determination and steadfast dedication have defined ERRA's path, forging a unique connection with an ever-growing audience, without the advantages of traditional recognition. On their career-defining, self-titled fifth studio album ERRA, the band confront depression, anxiety and desperation throughout. They take listeners on a near-out-of-body journey to Aokigahara, the infamous Suicide Forest of Japan; into episodic storytelling that would make Black Mirror writers proud; and into the literary works of Cormac McCarthy and Hubert Selby Jr.

As their music finds the balance between the crushingly heavy and the headily melodic, its members seek to find harmony between the needs of the individual and the natural flow of this shared reality. ERRA, as a band of brothers and creative force, strive to live in alignment with the present moment. ERRA, the album, represents redemption for the band, who emerged from the creative process with renewed focus, confidence, and certainty of self.

Links: Official Website | Facebook | Instagram | Twitter | Spotify

Venue Information:
College Street Music Hall
238 College Street

New Haven, CT, 06510