All Time Low – Tickets – College Street Music Hall – New Haven, CT – October 19th, 2021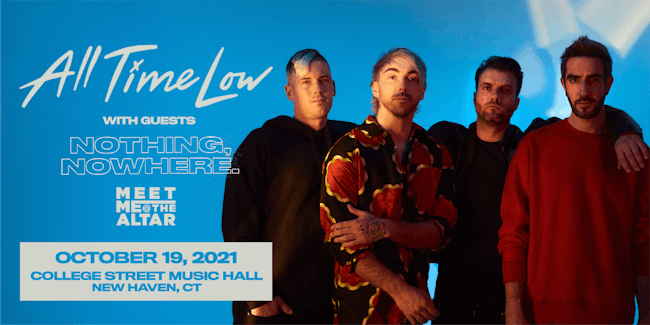 Premier Concerts and Manic Presents:
All Time Low
nothing,nowhere., Meet Me @ The Altar
College Street Music Hall
New Haven
,
CT
$35.00 - $45.00
Tickets At The Door
with nothing,nowhere. and Meet Me @ The Altar
This event is General Admission Standing Room on the Floor and Reserved Seated in the Balcony.
COVID-19 Vaccination (14 days past second shot) OR proof of negative COVID-19 PCR test (received within the past 72 hours) required for entry. If vaccinated, please bring your vaccination card or clearly legible photo of your vaccination card on your phone and a valid photo ID. If unvaccinated please bring printed or digital proof of your recent negative PCR test. Masks are required for all ticket holders and staff despite vaccination status. You may pull your mask down when eating or drinking only. These policies will remain in place until further notice.
To present proof of vaccination and/or negative PCR test results on your phone, we've partnered with Bindle, a digital health platform that is secure, easy to use and completely anonymous; your personal health information is never shared and your biometrics are not required. Visit the App Store or Google Play Store and search for MyBindle. Set-up is free and simple. If you are unable to provide digital proof, physical proof is also accepted.
ALL TIME LOW
Formed in 2003 in the suburbs of Baltimore, Maryland, All Time Low started out as a high school cover band before morphing into a melodic pop-punk act influenced by predecessors like and . An enduring presence in the late-2000s scene, they were a Warped Tour mainstay from their breakthrough sophomore set, So Wrong, It's Right (2007), to their chart-peak sixth LP, Future Hearts (2015). Following a late-career dip into pop with 2017's Last Young Renegade, they course-corrected at the start of the 2020s with Wake Up, Sunshine.
Singer/guitarist Alex Gaskarth and guitarist Jack Barakat were All Time Low's co-founders, with bassist Zack Merrick and drummer Rian Dawson rounding out their energetic pop-punk sound and rowdy live shows, which often included silly string and beach balls. Honing their skills between homework and other teenage commitments, the guys managed to tour across the East Coast and the South during school breaks. They issued a four-song EP, 2004's The Three Words to Remember in Dealing with the End, with help from local label , and followed its release with a full-length album, The Party Scene, one year later.
Touring across the country that summer, the guys found themselves on bills with similar acts like , , and . Along the way, All Time Low also bumped into fellow pop-punkers , who brought the young band to the attention of their label, Hopeless Records. The label was immediately impressed, and All Time Low had officially become part of the Hopeless family by March 2006, just a few months shy of the members' high-school graduation. Finally done with schoolwork and able to concentrate full-time on music, the group issued Put Up or Shut Up -- a seven-song EP that mostly featured new recordings of older material -- that July.
All Time Low supported the EP's release with a handful of Warped Tour dates before hitting the road again with . So Wrong, It's Right appeared in 2007, marking the band's first full-length release for Hopeless. After being named 2008's Band of the Year by Alternative Press, All Time Low returned with their second album, Nothing Personal, in July 2009. Debuting at number four on the Billboard charts, Nothing Personal helped make All Time Low one of the top emo-pop acts in the business. Two CD/DVD packages, MTV Unplugged and Straight to DVD, were released the following year, tiding fans over while the guys returned to the studio to begin work on their major-label debut for .
Dirty Work, featuring the single "I Feel Like Dancin'," was released in 2011. The album reached number six on the Billboard charts the week it was released, and the band hit the road. In 2012, All Time Low announced they had parted ways with and released a new song, "The Reckless and the Brave," on their website in June. Soon after, they re-signed with Hopeless and began work on a new album. Don't Panic was released in November 2012, then reissued almost a year later with four newly recorded songs and four acoustic versions under the name Don't Panic: It's Longer Now! In 2015, All Time Low returned with their sixth record, Future Hearts, which found them reuniting with their Dirty Work producer, John Feldmann. In 2016, they released Straight to DVD 2: Past, Present & Future, a sequel to the 2010 live album. In February 2017, All Time Low issued the single "Dirty Laundry" in anticipation of their seventh studio long-player, Last Young Renegade, which arrived in June of that year. Renegade was their first effort issued on , and featured the singles "Nice2KnoU" and the pop-focused "Life of the Party." Their fifth consecutive Top Ten record, the set's unabashed pop polish proved divisive and, after the era came to a close, the band got to work on a course-correcting follow-up.
In 2018, the summery and anthemic one-off single "Everything Is Fine" offered a taste of things to come with album number eight, which landed in early 2020. Wake Up, Sunshine saw All Time Low returning to their pop-punk roots after the brief pop foray on 2017's Renegade. Featuring appearances by and the Band Camino, the upbeat LP included the single "Some Kind of Disaster." ~ Corey Apar
Links: Official Website | Facebook | Instagram | Twitter | Spotify
nothing,nowhere.
Joseph Edward "Joe" Mulherin (born June 4, 1992), better known by his stage name nothing,nowhere., is an American singer-songwriter, rapper, producer and musician originally from Foxborough, Massachusetts and currently based in Vermont, United States.
He found his passion for music when he was 12 years old when his cousin let him borrow their acoustic guitar, with which n,n. covered popular emo songs.
He went through school going to and from bands, most of them never getting anywhere. While attending college, he started focusing on his own music, and then the name "nothing,nowhere." was born. The inspiration for his music comes from blending more of the "heavier hip-hop elements" with "organic instruments," while the inspiration for his stage name came from philosopher Alan Watts.
Since the inception of nothing,nowhere., he has released three full-lengths—ruiner from 2018, Reaper from 2017, and the nothing,nowhere. lp from 2015—as well as the two EPs; bummer from 2015 and Who Are You? from 2016. He has also released many singles, including the popular "Deadbeat Valentine" and "Twenty Something."
Though some people falsely think that nothing,nowhere. is more than one person, he has on several occasions announced that he is a solo act with touring musicians.
Links: Official Website | Facebook | Instagram | Twitter | Spotify
MEET ME @ THE ALTAR
Meet Me @ The Altar is a three-piece high energy pop punk band consisting of singer Edith Johnson, guitarist/bassist Téa Campbell, and drummer Ada Juarez . Each member lives in a different state on the East Coast of the United States: Georgia, Florida, and New Jersey respectively.

Meeting and collaborating via YouTube makes MMATA a quintessential modern music story. Despite the distance and lack of a true hometown, the band bounds together to play high-energy shows and reel crowds in with their bouncy and energetic sound, along with catchy hooks.

Links: Official Website | Facebook | Instagram | Twitter | Spotify

Venue Information:
College Street Music Hall
238 College Street

New Haven, CT, 06510