3 Chambers Tour: Raekwon x Ghostface Killah x GZA – Tickets – College Street Music Hall – New Haven, CT – November 26th, 2021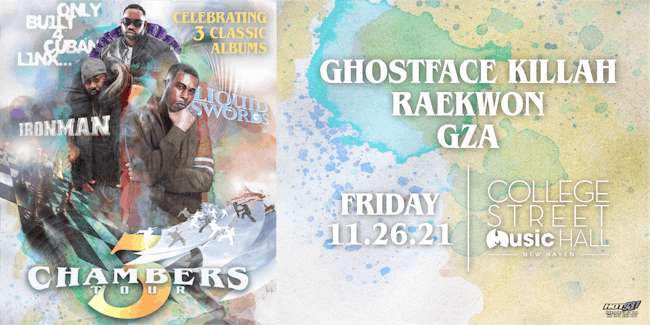 Hot 93.7's Dream Team Presents:
Raekwon
Ghostface Killah
GZA
College Street Music Hall
New Haven
,
CT
$45.00 - $60.00
Tickets At The Door
​
This event is General Admission Standing Room on the Floor and Reserved Seated in the Balcony.
COVID-19 Vaccination (14 days past second shot) OR proof of negative COVID-19 PCR test (received within the past 72 hours) required for entry. If vaccinated, please bring your vaccination card or clearly legible photo of your vaccination card on your phone and a valid photo ID. If unvaccinated please bring printed or digital proof of your recent negative PCR test. Masks are required for all ticket holders and staff despite vaccination status. You may pull your mask down when eating or drinking only. These policies will remain in place until further notice.
To present proof of vaccination and/or negative PCR test results on your phone, we've partnered with Bindle, a digital health platform that is secure, easy to use and completely anonymous; your personal health information is never shared and your biometrics are not required. Visit the App Store or Google Play Store and search for MyBindle. Set-up is free and simple. If you are unable to provide digital proof, physical proof is also accepted.
RAEKWON
PERFORMING "ONLY BUILT 4 CUBAN LINX"
Raekwon may not have achieved the solo stardom of his fellow mates or , but along with Genius/GZA and frequent partner , he has recorded some of the most inventive, critically acclaimed work outside the confines of the group. Born Corey Woods and also nicknamed the Chef (because he's "cookin' up some marvelous sh*t to get your mouth watering"), Raekwon joined the Staten Island, New York-based collective in the early '90s and was crucial to the success of the group's groundbreaking 1993 debut, Enter the Wu-Tang (36 Chambers). Most notably, he delivered the first verse of "C.R.E.A.M.," the group's breakthrough, gold-certified single. The rapper's lengthy solo career, concurrent with his membership, includes the 1995 classic Only Built 4 Cuban Linx and two additional Top Ten albums.
Although 's contract with the then -distributed allowed 's individual members to sign with whatever label they chose, Raekwon stayed with when the first round of -related solo projects began to appear. Following his 1994 debut single, "Heaven and Hell," his own solo debut, Only Built 4 Cuban Linx, appeared in 1995. While the -produced set didn't sell on the level of 's Tical, it peaked at number four on the Billboard 200 and went gold, pushed by the singles "Ice Cream" and "Glaciers of Ice." Moreover, the album received near-unanimous critical praise for its evocative, image-rich storytelling and cinematic Mafia obsession (on some tracks, he adopted the guise of gangster Lex Diamonds). Also notable was Raekwon's crackling chemistry with heavily featured collaborator , who enjoyed something of a coming-out party with all the exposure (he hadn't been nearly as much of a presence on Enter the Wu-Tang).
After Raekwon was featured throughout Ironman, 's 1996 debut, regrouped for the double-disc release Wu-Tang Forever in 1997. That LP was followed by a second round of solo projects, including Raekwon's Immobilarity, released on in late 1999. Due perhaps to the four years that had elapsed since Cuban Linx, combined with the absence of and , reviews were comparatively mixed, but it debuted in the Top Ten and also went gold. Raekwon was on subsequent albums The W and Iron Flag and returned in 2003 on with The Lex Diamond Story, an album he felt didn't receive the proper budget or promotion. A series of delays, including sample clearance issues and a change of distributors, pushed the -supported Only Built 4 Cuban Linx...Pt. II back to 2009, two years after the release of the fifth album, 8 Diagrams. Unlike Raekwon's debut, the sequel featured productions from several major players, including , and , rather than alone. It entered the Billboard 200 at number four.
During the following decade, Raekwon continued to build the discography of his label with numerous mixtapes and occasional proper albums, along with continued work with and affiliates. In 2010, he joined and on the collaborative album Wu Massacre. , , and all appeared on his 2011 album Shaolin vs. Wu-Tang. The EP Lost Jewelry followed in 2012, then in 2014 he reunited with for the album A Better Tomorrow and a supporting tour. The conceptual solo effort Fly International Luxurious Art arrived in 2015, followed two years later by The Wild. The three-song EP The Appetition appeared in 2020. ~ Steve Huey, Rovi
GHOSTFACE KILLAH
PERFORMING "IRONMAN"
Whether judged strictly by his work with or as a solo artist, Ghostface Killah is an indisputable giant. A masterful storyteller whose range extends from graphic crime fantasies to stirring autobiographical recollections, the rapper first appeared with his Staten Island group's trail-blazing Enter the Wu-Tang (1993) and started building a vast solo discography with Ironman (1996). His platinum-certified debut strengthened a partnership with , whose bracing mutations of dusty soul have either soundtracked or influenced much of his best output. After an occasionally commercial early period with that yielded a second classic, Supreme Clientele (2000), Ghost moved to , where he released six additional solo LPs highlighted by his fourth Top Ten pop album, Fishscale (2006). Throughout the following decade, Ghost added to his legacy with a series of creatively unrestricted works, many of which were whole-album collaborations, conceived with the likes of the -inspired , , and . These included the two-volume Twelve Reasons to Die (2013 and 2015), Sour Soul (2015), and Czarface Meets Ghostface (2019).
The rapper born Dennis Coles emerged from his native Staten Island as part of , who released their first single in 1992 and became one of the strongest hip-hop institutions the following year with Enter the Wu-Tang (36 Chambers). On the album's fifth and final single, "Can It Be All So Simple," Ghostface rhymed about his intent to "make more hits with Rae and A," singling out fellow members and . He quickly achieved his goal. In August 1995, a few months after Enter the Wu-Tang was certified platinum, "Tony Starks (Ghost Face Killer)" was billed as guest star on 's -produced Only Built 4 Cuban Linx. Among the tracks featuring Ghost were the preceding lead single "Heaven & Hell," a remix of "Can It Be All So Simple," and the Top Five Billboard rap hits "Criminology" and "Ice Cream." During the same year, Ghost linked with and on other projects, namely 's Return to the 36 Chambers and 's Liquid Swords, and took part in the making of yet another classic, Queensbridge duo 's The Infamous. These appearances, plus subsequent headlining contributions to the soundtracks of Don't Be a Menace to South Central While Drinking Your Juice in the Hood and Sunset Park, primed Ghost for his own solo breakout.
Signed to major-label via an arrangement with boutique label , Ghostface Killah became the fifth member to release a solo album when Ironman was racked in October 1996. Continuing 's unprecedented spate of spin-off releases, the LP entered the Billboard 200 at number two and topped the R&B/hip-hop chart. served as producer. and Ghost's fellow signee were featured throughout. Its deep R&B foundation and wide emotional range were promoted in the choice of singles, including the strong-arming and deceptively intricate "Daytona 500" (assisted by ) and the bleak autobiographical ballad "All That I Got Is You" (featuring ). The album was certified gold within three months (and years later went platinum). Between one-off featured roles and his group's return with Wu-Tang Forever, Ghost put solo activity on hold. He and also spent time in Africa, an experience that fueled the writing of Supreme Clientele, the second Ghostface Killah LP. Production-wise, handled a few tracks on his own and vacated his seat for affiliate beatmakers such as (), Hassan (), and Carlos Bess, though he did touch every cut in some capacity. The album went Top Ten pop and number two R&B/hip-hop upon its February 2000 release, and shortly thereafter went gold, pushed by "Apollo Kids" and "Cherchez LaGhost," both of which charted.
"Cherchez LaGhost" actually became Ghost's biggest single as a lead artist -- a number three hit on Hot Rap Songs. That song's comparatively lighter approach carried into Bulletproof Wallets, which rather expeditiously arrived in November 2001 as Ghost's third solo album. Like "Cherchez LaGhost," "Ghost Showers" was built on one of August "Kid Creole" Darnell's high-spirited compositions, and was almost as successful, topping out at number 11 on the rap chart. Veering even farther away from -style grime was another single, "Never Be the Same Again," a smooth contemporary R&B production with then-hot artist on the hook. Only four weeks after the album's arrival, however, returned again with Iron Flag, highlighted by the hard-hitting "Uzi (Pinky Ring)," on which Ghost was back in his familiar raw form. Ghost's next move, The Pretty Toney Album, issued in April 2004 as his first full-length for , gunned for pop success with the collaboration "Tush." It was otherwise more street-oriented than Bulletproof Wallets, outfitted with tougher productions from the likes of , , , and . Only a few months after it became Ghost's third album to reach the pop Top Ten, the group -- primarily an outlet for Ghost and Trife da God, but open to several other artists -- released the album 718 on the independent label. ground to a halt, but not before welcoming Sun God, Ghost's son.
Ghost's phase was productive. In 2006 alone, he released his second and third albums for the label. First was Fishscale in March, trailed by More Fish in December. The former was particularly successful, landing within the Top Ten of the R&B/hip-hop and Billboard 200 charts, and both featured some of his best collaborations with R&B artists, such as "Back Like That," with , and a version of 's "You Know I'm No Good." The production personnel on the albums included , , , , and Hi-Tek, all revered veterans. Three additional albums followed during the next five years. The Big Doe Rehab had the misfortune of being released only one week before 's 8 Diagrams in December 2007. Ghostdini Wizard of Poetry in Emerald City, a highly libidinous set, followed in September 2009. The alliance concluded in December 2010 with Apollo Kids, a brief and patched-together collection with , , and mixing it up with members. Production credits for these later LPs were quite variable, with only Fishscale collaborators LV & Sean C present on all three. Between the release dates, Ghost unloaded guest verses by the bushel, most effectively on 's well-received Only Built 4 Cuban Linx...Pt. II. He also put together Wu Massacre with Rae and .
Ghost's recordings throughout the 2010s, supported by a series of independent labels including 's , tended to be conceptual and/or whole-album collaborations that enabled him to indulge in the rapper's love of pre-disco R&B. During these years, Ghost also participated in various and related projects, such as the proper album A Better Tomorrow. He lengthened his solo discography with Twelve Reasons to Die and its sequel, both of which were produced by with giallo scores and dark psychedelic soul epics in mind. (The Brown Tape, an alternate version of the first volume, was produced by .) Issued respectively in April 2013 and July 2015, the Twelve Reasons LPs preceded and followed the December 2014 release 36 Seasons, for which Ghost worked extensively with , and the February 2015 arrival Sour Soul, recorded with another retro-contemporary act, . During the next few years, Ghost was active mainly in supporting roles on tracks by , 's , , and (the last of whom orchestrated the posse cut "Wu-Tang Forever"). In February 2019, Ghost returned with Czarface Meets Ghostface, a collaboration with 7L, , and 's . Solo album Ghostface Killahs, featuring guest appearances by several members and production by Danny Caiazzo, was released by later in the year. ~ Andy Kellman, Rovi
Links: Official Website | Facebook | Instagram | Twitter | Spotify
GZA
PERFORMING "LIQUID SWORDS"
GZA, aka the Genius, was the most cerebral MC in , as well as perhaps the most acclaimed. His cool, precise flow and intricate, literate rhymes weren't as theatrical as or , the two biggest commercial stars to spring from the collective. But among hip-hop aficionados, GZA was revered for his flawless technique and lyrical dexterity, and was considered by many to be the best pure rapper in the entire . GZA was born Gary Grice on August 22, 1966, on Staten Island, New York, and shuttled between several other New York boroughs with various relatives during his childhood. He started learning rhymes by the earliest hip-hop MCs while spending time in the Bronx, and returned to Staten Island to share them with his cousins, who later became known as and . In fact, the three of them first teamed up in the early '80s as part of an obscure group called All in Together Now.

Time passed, and GZA landed a recording contract with , which, unfortunately, was nearing the end of its brilliant run. In 1991, he became the only future member to release a solo album prior to 's formation, with Words from the Genius. Produced mostly by Easy Mo Bee, the album flopped badly and, creatively, did little to hint at GZA's future standing. Conflicts with the label sent him packing, and he reteamed with a similarly disenchanted (fresh off a failed stint with ) and to co-found . Adding six other friends and associates, the group became an underground sensation and took the rap world by storm with its 1993 debut, Enter the Wu-Tang (36 Chambers). Their innovative contract allowed each member to sign a solo deal with whatever label they chose, and GZA wound up on . In 1994, his first post- solo track, "I Gotcha Back," appeared on the soundtrack of the film Fresh. His second solo album, Liquid Swords, followed in 1995 and was hailed as a hip-hop classic thanks to its coolly understated menace. While it didn't make him a star on the level of , the album did sell well, reaching the Top Ten of the Billboard 200 and falling one spot short of the top of the R&B/Hip-Hop chart. There were no big mainstream hits, but the title cut, "Cold World," and "Shadowboxin'" all did well on the rap chart.

Following 's 1997 sophomore set, Wu-Tang Forever, GZA returned to the solo arena with 1999's Beneath the Surface. While critics didn't praise it quite as lavishly as Liquid Swords, it was another well-received effort (especially compared to some of the lackluster follow-ups elsewhere in the camp), and it topped the Hip-Hop/R&B album chart. After reconvening with for 2000's The W and 2001's Iron Flag, GZA dropped his fourth solo effort, Legend of the Liquid Sword, in late 2002, consolidating his reputation as one of the most skillful rappers around. Grandmasters, a collaborative project between himself and DJ Muggs, was released in 2005, followed the next year by an instrumental version and then a remix version in 2007. A year later GZA released the solo album Pro Tools on the indie label . It featured guest shots from affiliates , , and producer Mathematics. GZA lectured at several universities, including Harvard and Oxford, and applied his academic connections and deep interest in science to develop a science-meets-hip-hop program dedicated to engaging New York City high school students. Additionally, he worked toward another solo album, Dark Matter, with electronic music pioneer among his collaborators. ~ Steve Huey, Rovi

Venue Information:
College Street Music Hall
238 College Street

New Haven, CT, 06510